The recreation centre is at the heart of community life in Mackenzie
The active lifestyle of this community is reflected in its favourite gathering place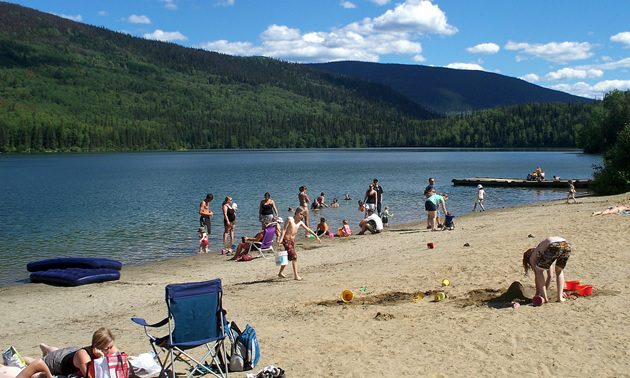 North of Prince George in B.C.'s beautiful interior is a pristine town surrounded by wilderness. Mackenzie's history can trace back to the days of explorer Alexander Mackenzie, after whom the town was named. While the natural beauty of Mackenzie may not come as a surprise to any who visit, at the core of this town of 5,000 lies a vibrant heart that few would ever guess exists.
Known to townspeople as simply "the recreation centre," its simple name belies the large part it plays in the vibrancy of the community. This is a mega complex that holds the town's indoor rink, 25-metre swimming pool, curling rink, fitness centre with weight room, play centre for young children, meeting rooms, a small restaurant and the town's public library. It's a space that embodies the active lifestyle that Mackenzie has come to be known for.
"The recreation centre is an important part of the community, " said Kerri Borne, Mackenzie's tourism and events manager, "because it's where the town congregates."
With families bringing children to participate in arena sports or swimming, or parents and grandparents enjoying a dip in the pool, a yoga class or other organized workshops or activities, Borne said that if you're ever looking for someone in Mackenzie, chances are you'll find them somewhere in the halls of the rec centre.
The centre has an outdoor arena next to it as well as a kids' playground and access to the well-established trail system that leads down to Morfee Lake.
"Active living is what Mackenzie is all about," said Borne. "With Morfee Lake less than five minutes from downtown and nearly all of our subdivisions boasting hiking and biking trails that lead down to the lake, you'll always see people here being quite active—and there's plenty of opportunity to be so."
Locals enjoy boating, kayaking, canoeing and fishing on Morfee Lake and many other surrounding lakes including Williston Lake, the largest man-made reservoir in North America. There are also plenty of opportunities for more relaxing activities, including picnics at scenic parks, birding and other wildlife watching and hunting for treasure through geocaches set up by the town.
And for those looking for an activity that's a little less rustic, Mackenzie also boasts a nine-hole golf and country club, where a round of golf can be played for a reasonable price.
If you're looking for cost savings, you can't beat Mackenzie's townsite regional campground, where the first three nights are free. Those seeking a more natural setting will find what they're looking for at one of the many campsites nearby, including just a short distance away at 22 Mile.
If an active destination is what you desire, you'll find it at every turn in Mackenzie.