How to catch (and cook) a big fish in Mackenzie, BC
Locals will direct you to Williston Lake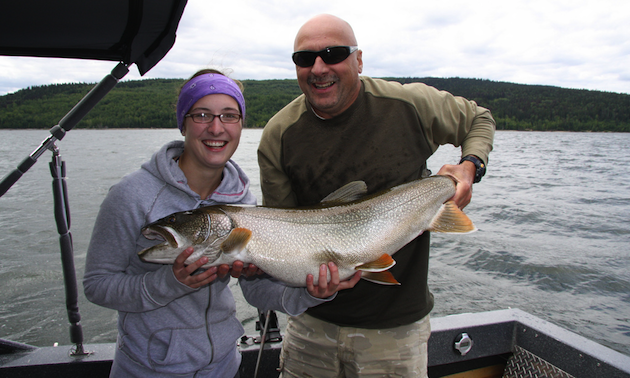 Mackenzie is tucked away in the Rocky Mountain Trench at the southern end of human-made Williston Lake. It attracts thousands of visitors every year with abundant hiking, camping, skiing and snowmobiling opportunities—and, of course, fishing. Boasting 20,000 kilometres of coastline, 25,000 lakes and tens of thousands kilometres of rivers and streams, the town's motto, The Sky's the Limit, definitely comes to life on the water.
Steve Rooke, an avid fisherman in Mackenzie, is protective of his secret spots, but said the key to successful fishing in Mackenzie is to try different methods and visit the most popular lakes like Morfee or Willston in the spring.
He also recommends the Anglers Atlas website as a great place to peruse information about fishing the lakes in Mackenzie (or anywhere).
When it comes to serving up freshly caught fish, methods and techniques can be as individual as the fishing spots. Though he catches and releases 99 per cent of the time, the odd fish that does come home for dinner at the Rooke household is grilled up on the barbecue with tomatoes and spices in the middle.
Transplanted Newfoundlander knows how to cook up fresh fish
Twenty years ago, Alec Nostall left Newfoundland for Mackenzie and brought his lifelong East Coast love of fishing with him. He's haunted most of the area's many lakes and caught 10-, 15- and 25-pounders in some of them.
Possibly the only thing he does better than catch fish is cook fish. With minimal ingredients and a natural instinct, he's served up some of the best shore lunches in town.
"Take a piece of fish, some flour, salt and oil, and you can do anything," Nostall said.
His favourite spot is up in Cut Thumb Bay for lake trout, dolly varden and ling cod, which he prepares with taste and texture in mind.
"I like to take the skin off, debone them and dry it in paper towel," he said. "I put them in a flour, salt and pepper mix, and add a few spices. Then I dip it in egg and milk, and roll the whole thing in dried potato flakes. When you fry it, it's really crisp and has a nice crunch."
If he's deep-frying dinner, Nostall mixes cornstarch and flour and adds water, vinegar, salt and pepper. Then he adds the magic ingredient:
"I heat the oil up and just before I add the fish to the batter, I add baking soda," he said. "It keeps the gases in and the batter puffs right up, just like deep fried shrimp in a Chinese restaurant."
The best lakes
He agrees the possibilities are literally endless when it comes to where and when to fish in Mackenzie, but Nostall points people passing through to Morfee and Willston Lakes.
"You can catch a lot in Willston Lake with a five of diamonds," he said. "I've caught five- and ten-pounders off shore."
"Ice fishing here is awesome too," he said. "I caught a 25-pounder right in town at Morfee Lake. There are so many lakes and every one of them produces fish. Just ask any local and everyone can tell you a good place to go."