Behind the name Mackenzie
One of Mackenzie's big stories involves forestry, a dam and a giant tree crusher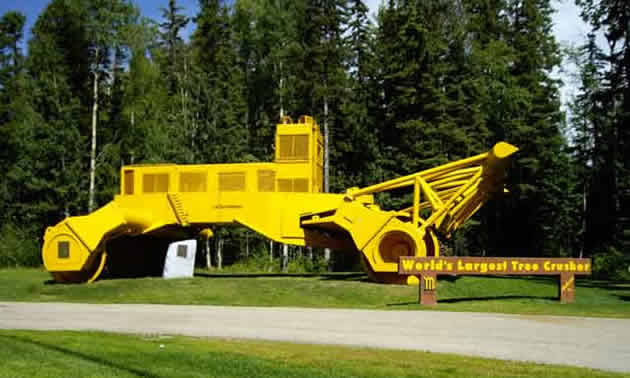 Less than 200 years ago, explorer Sir Alexander Mackenzie could never have predicted the future for one of his camping spots. Guided by the Nuxalk-Carrier peoples over ancient trading routes, Mackenzie was the first European to cross North America by land, reaching the Pacific Ocean in 1793.
Near that famous camping spot, an instant town—named after the explorer—was created in the 1960s to service the needs of the large pulp-and-paper manufacturing plants. The forest industry needed to harvest the trees from thousands of acres of prime forests before the damming of the Peace River took place to form what is now Williston Lake. It would flood an area rich in marketable timber, and so the trees had to be harvested as soon as possible.
Clearing the way
Some of the trees were non-merchantable but needed to be cleared before the flooding, so a 175-ton piece of equipment—a giant tree-crushing machine—was brought in to clear the land. Delivered by six railcars, it took four days to unload and reassemble. When the people tried getting it to the work area only four miles away, it got stuck often and sat over the winter—still only 2½ miles from where it had originally been assembled. Self-powered, the crusher worked like a steam roller—clearing everything in its path—and they managed to clear 2,250 acres between August 1 and November 16, 1965.
Mackenzie was literally carved out of the wilderness. There was no time to waste, so roads, schools, a hospital, housing and the necessary infrastructure were developed quickly; in 1966 the District of Mackenzie was formally incorporated.
In the early days
Although the town of Mackenzie was not created until the 1960s, this area is not without a rich history. Maps and photos of nearby early settlements and Hudson's Bay trading posts at Fort Graham, Fort Ware, Finlay Forks and Fort McLeod can be found at the local museum. Canada's first aboriginal woman Superior Court Judge, Rose Toodick Boyko, spent her childhood on her father's trapline at Finlay Forks. Some of the earliest fur-trading posts were built in the 1800s, with the Hudson's Bay Company moving into the area in the 1820s.