Vacation on the lake
Beautiful, sprawling Lake Koocanusa provides a peaceful venue for water sports, family gatherings and relaxation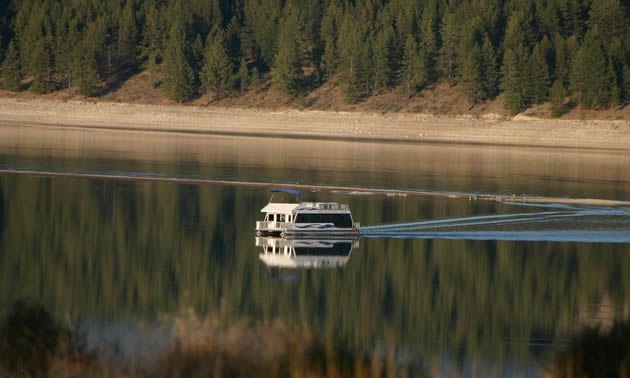 On a whim, after selling their Beaver Lumber business in Cranbrook, B.C., in 1998, Brant and Diane Cullum decided to get into the houseboat charter business.
"I'd never been on a houseboat before," said Brant. "The first one I drove was the first one we put in the water on Lake Koocanusa."
Sunshine Houseboat Vacations operates about 17 houseboats on Lake Koocanusa in southeastern B.C. The Cullums are majority owners of the company, with a couple of silent partners.
Brant feels privileged to spend four to six months every year at this spectacular spot on Lake Koocanusa. I asked him to describe a houseboat vacation experience.
There's no rush
"Prepare to relax," said Brant. "The minute you leave (the marina), your blood pressure will drop. People like houseboating because it's not complicated."
Only the barest basic supplies and groceries are available at the two convenience stores on the lake, so you need to take along your food, drink, bedding, towels and clothing. When you board the houseboat, all you have to do is unpack your food and make up your bed.
The houseboats—each equipped with a hot tub—accommodate from two to 22 guests, and most people who rent a houseboat do so with family or friends. There are lots of water-based activities available, and houseboaters' days are mostly spent sunbathing, swimming, fishing, eating, drinking and laughing—a lot.
For safety reasons, the houseboats must be moored overnight at one of the many available beaches, though you can go ashore to have a campfire and enjoy the beach.
Because the lake is created anew every spring, filling with water held back by the Libby Dam, its water is clean and—at the north end—warmer than you might expect. At Lake Koocanusa, sunshine, beautiful beaches, Rocky Mountain views and peace and quiet are in abundant supply—just what you need to refresh and recharge.