Treat yourself to authentic aboriginal food near Kitimat
Salmon, bannock and berries are just the beginning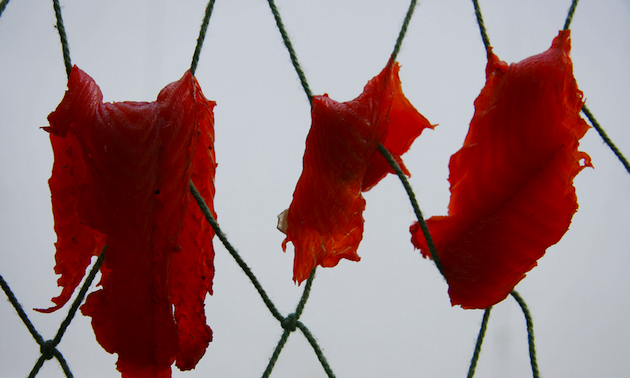 Totem poles, wilderness adventures, wildlife viewing, historical legends and time-honoured traditions are just a few of the reasons to travel into British Columbia's interior and venture west towards the community of Kitimat. The other reason to make this journey is to have the wonderful experience of tasting first-rate food cooked in ways many of us never have the opportunity to experience.
Eating seasonally is a way of life for the Haisla people—and one that has been passed down from generation to generation probably for thousands of years. Visitors to Kitamaat Village, home of the Haisla Nation, will be able to sample their delicious, authentic foods cooked in traditional methods.
The bounty of the sea
The village is situated on B.C.'s beautiful north coast a short distance from the city of Kitimat. Living at the edge of the ocean, the Haisla enjoy a traditional diet predominated by fish and other seafood delights.
Anticipating the unique flavours of the local seafood will bring you back here time and again for another wonderful feast. The restaurant and lounge feature such items as crab, prawns, sea urchin and sea cucumber, as well as salmon cooked in a variety of ways. Try a bowl of steamed rice with oolican oil (harvested from spawning oolican fish) as a side dish.
Berries and bannock
Spending the day tramping through the bush with a local guide in search of salmonberries, huckleberries or blueberries will be fun for the whole family. These seasonal fruits are used in an assortment of recipes, but berries are often included in making bannock, another favourite amongst the locals.
Bannock, sometimes called Indian bread, is made from flour and then either fried, baked or cooked on a stick over an open fire; the dough is sometimes kneaded with fruit or spices. Bannock is a true indulgence, especially if there's also a hot cup of pouillas (a traditional hot drink) next to you along with a piece of smoked wild salmon.
Participating in a traditional salmon feast, eating bannock bread, picking fresh berries, attending an authentic potlatch dance or just sitting around a bonfire are all good reason to plan a trip to Kitimat.