Make a date with dates in Indio, California
John Olivares Espinoza draws on the landscapes of the Coachella Valley in his poetry
by DaleAnn Shellborn —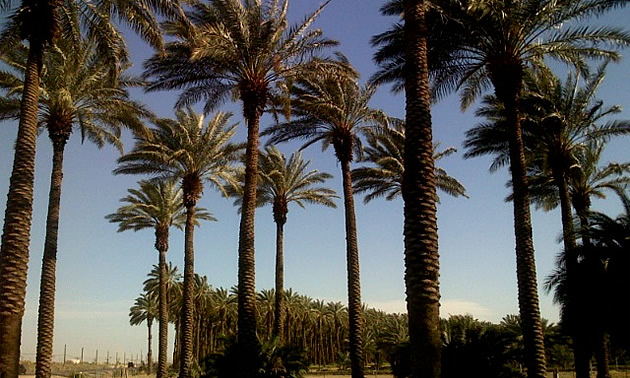 The hot, sunny town of Indio, California, has long billed itself as the date capital of the United States. Since it's also the hometown of poet John Olivares Espinoza, it's no coincidence he titled his latest book The Date Fruit Elegies.
"Most of the poems in the book are about my growing up in Indio," said Espinoza. "The subjects of my poems range from trips for junk food with my grandfather to Limon's Food Market—a store in Thermal, California, that later burned down—to landscaping with my father and brothers in the country clubs and golf resorts."
Indio is the halfway point on the rail line between Yuma and Los Angeles and has a climate perfect for growing dates, with a mean annual temperature of about 24 Celsius. Mountains surround the city on three sides, reflecting heat back to the valley floor. The U.S. Department of Agriculture began to import date palms from Algeria back in 1903 for its date and citrus experiment station in Indio. The city now hosts the National Date Festival every February and one of its major tourist attractions is a date farm.
"Every time I visit Indio, I make a trip to Shields Date Garden on Highway 111," said Espinoza. "Every time I'm at Shields, it's packed with tourists buying up dates and date shakes. This makes me happy, because oftentimes, travellers pass up Indio on Interstate 10, believing that it's some rinky-dink town. What a driver sees off the I-10 doesn't do Indio any justice. Indio has so much to offer, like the fruits of its labour, the fruits of the sun."
Espinoza was born in California in 1978 to Mexican parents. He's been writing poetry since he was a student and was inspired by wordsmiths like Phillip Levine, the current poet laureate of the United States. The Date Fruit Elegies is full of imagery that is easily recognized by anyone who has visited the California desert.
"I think visitors who've spent half an hour in the heart of Indio will get the sense of the city in the book," said Espinoza. "They will come upon the date fruits, the palm trees, the mountains, the garden variety of flowers, Highway 111, the desert and especially the heat."
Espinoza now lives and works in the San Francisco Bay area, where he finds the cool climate more conducive to writing. However, he continues to return to the landscapes of the Coachella Valley in his poetry.
"I just finished a poem about my grandparents' pomegranate trees, the extreme heat in Thermal and mirages," said Espinoza. "I have a couple of projects on my plate right now, but a few years down the line I'd like to write a sequel, so to speak, with poems about the date festival and the history of the Cahuilla Indians."
The Date Fruit Elegies is available on amazon.ca.