Kayaking for RVers—some top paddling locations in British Columbia
Have your favourites made the list?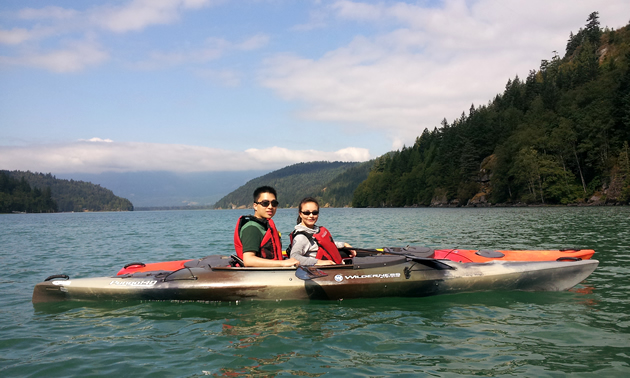 On calm or rushing rivers, pristine lakes or coastal waters, kayaking has become one of the most popular outdoor activities throughout British Columbia. This is especially so for RVers who have discovered kayaks are not only sleek, swift and easy to transport, they are as affordable as a quality bike with models to suit everyone in the family.
Useful information about all types of paddling can be found here and Government of Canada regulations are published in its Safe Boating Guide.
So now comes the fun part–choosing your destination. If you haven't already decided, here are a few of the many popular places for RVers to dip their paddles around the Lower Mainland of B.C.
Burnaby's Deer Lake Regional Park
If you'd like a kayaking choice that's also close to other attractions for the non-paddlers in your party, one great spot is Burnaby's Deer Lake Regional Park. Less than an hour away from the ocean and downtown Vancouver, this 162-hectare (400-acre) park is ideal. Family-friendly and centred among nature trails, gardens, art centres, museums and picnic areas, you can paddle this lake to your heart's content. Birds and wildlife are abundant and no powerboats are allowed. Close by and well equipped, the Burnaby-Cariboo RV Park serves as a hub for Deer Lake and all manner of Metro Vancouver attractions.
Bowen Island
For experienced paddlers seeking more of a challenge, the waters around Bowen Island are ideal. With a focus on sea-kayaking and just a scenic 20-minute ferry ride from Horseshoe Bay, a Bowen paddle can be as short as an hour, or a multi-day excursion. As a mainland base, the Capilano River RV Park is only 15 minutes east of the ferry terminal. There, you can enjoy another dip of the paddle in the river estuary at sunset. Take care, though, to check for high-tide turbulence and/or unexpected releases of water from the dam-gate upstream.
Deep Cove and Indian Arm
Still on the North Shore, Deep Cove and Indian Arm might be next on your list of must-sees. Just a 30-minute drive from either Cariboo or Capilano RV parks, it's doubtful you'll ever really want to leave an area that Tourism Vancouver refers to as "a paddler's paradise".
Harrison Hot Springs
Next, you could travel eastward through Abbotsford to Harrison Hot Springs. There, you can marvel at Harrison's mile upon mile of magnificent scenery either kayaking alone, or accompanied by expert guides who are familiar with the whole area–including Harrison's scenic hiking trails.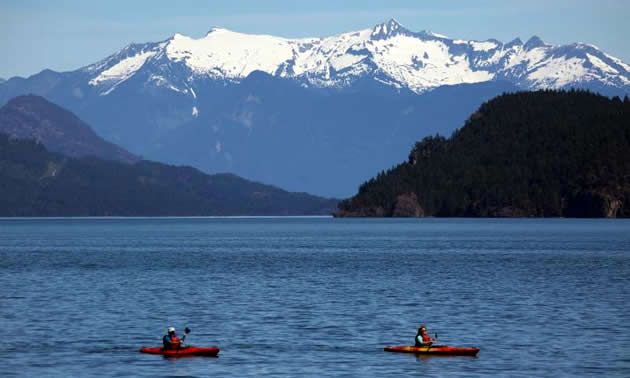 Semiahmoo Bay
And now, to complete the circle, we're back where some readers may actually have begun–paddling Semiahmoo Bay in sunny White Rock. Here, no matter your skill levels, you and all members of your family can kayak, canoe or paddleboard all day right into the sunset. Photographers take note: those sunsets will give you spectacular images you'll prize for the rest of your life.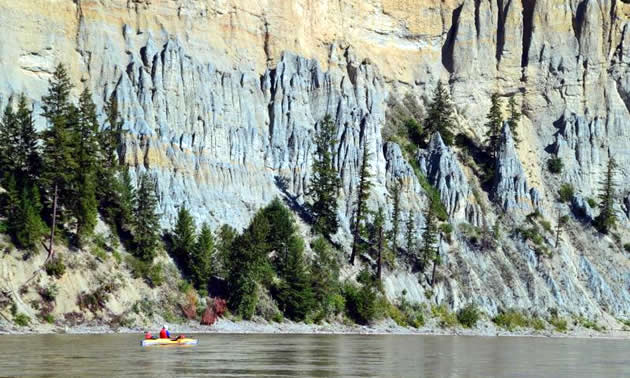 Fraser-Thompson River
Lastly, although not strictly a Lower Mainland choice, if a challenging river paddle is your dream vacation, how about rafting the Fraser-Thompson rivers? The Thompson rises in the Rockies at Blackrock Mountain and flows for nearly 1,400 kilometres through wide valleys before it meets the "Mighty Fraser"—the longest river within B.C. From there, the river flows south from Lytton through the canyon and opens into its estuary in the Georgia Strait. Along the way, paddlers can enjoy kayaking, canoeing and river-rafting at dozens of spots along the historic Gold Rush Trail, south to Hope, B.C.
So there are just a few teasers for now. If you would like us to feature your special kayaking or other paddling destination, please let us know.