A photo tour of Gravelbourg, Saskatchewan
Gravelbourg brings a touch of France to Western Canada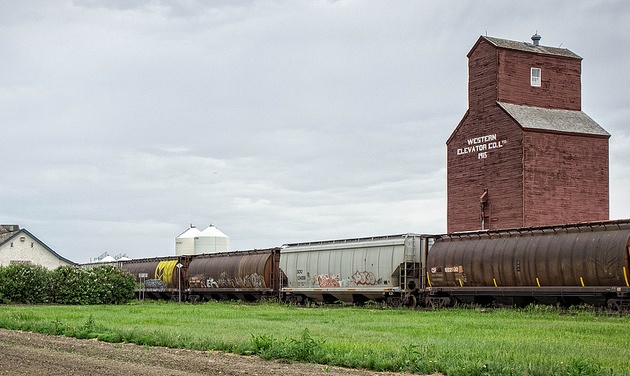 Located in south central Saskatchewan, Gravelbourg is a cozy prairie town that brings a touch of France to western Canada and proudly features some of Canada's most photo-worthy icons of photography—historic wooden grain elevators.
Photo op: Co-Cathedral
Gravelbourg's 1918 constructed cathedral is a national historic site reflecting a Classical Revival style that speaks to French-Canadian efforts to colonize the Roman Catholic Church in western Canada. Its four-storey presentation is a central visitors spot in Gravelbourg that can be seen from miles around and lends itself to some stunning architectural photography.
Address: Located at the south end of Main Street off Highway 43.
Photo tip: To take photos of such a large building requires standing far enough back to be able to capture it all on one frame, said photography enthusiast Wally Roth.
"If it's a bright, sunny day I'd recommend spot-metering on the building to preserve the details of the brickwork and stained glass," said Roth. "Try getting closer as well, to capture the details around the entrance or the wooden door, or zoom in on the statue of Mary above the front entrance for a closer look at the artwork. If your camera has a panorama setting you'll be able to take in the whole building plus some of its surroundings to better place it in its environment."
Photo op: Gravelbourg railway station and grain elevator
At either ends of Main Street are the old train station and grain elevator.
"Placing them at opposite ends of the main throughway is a photographer's dream," said Roth.
The railway station, constructed in 1913, is a lovely two-storey, wood-framed and stucco-clad building distinguished by its broad, overhanging eaves and combined hipped and gable roof. Its presentation makes for some excellent "memory" shots, especially with the grain elevator in the background. The grain elevator, one of two remaining in Gravelbourg, has a bright orange exterior that contrasts beautifully with the open sky.
Address: Main Street, just off of Highway 43 in Gravelbourg.
Photo tip: Taking photos looking down the length of the street with a captivating background makes for very interesting photographs, said Roth.
"Again, I prefer to make sure the camera is exposed to the buildings if at all possible, in order to preserve the details and colours," he said. "If it's a cloudy day, it's easier to expose for both the buildings and the sky, as the lighting is more even."
Photo op: Storefronts in downtown Gravelbourg
After stopping at one of the charming cafes like the Cafe Paris, wander downtown Gravelbourg and snap photos of the historical and otherwise interesting storefronts.
Address: Main Street, just off of Highway 43 in Gravelbourg.
Photo tip: "I like how the colours are more saturated when it's raining," said Roth, who recommends using an umbrella to guard the camera when taking rainy shots. Watch for background layering for additional depth.