Going to Gravelbourg? Très bon!
A touch of Europe resides in Gravelbourg, Saskatchewan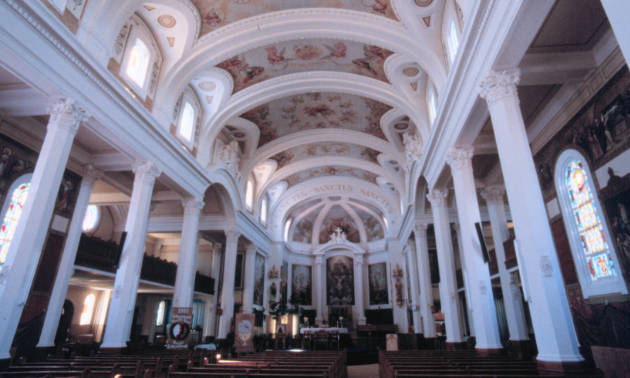 "Bonjour. Comment allez-vous?"
That's a greeting you can expect to hear in Eastern Canada, but in Saskatchewan, not so much—unless you're in Gravelbourg. Thanks to the town's French roots, Gravelbourg maintains a touch of Europe in southern Saskatchewan. Gravelbourg's monicker of the "Cultural Gem of Saskatchewan" lends itself to its bilingual heritage, regal architecture and rich culture. The biggest draw within the cultural gem is its museum.
The Gravelbourg and District Museum is devoted to the history of Gravelbourg and the stories of its people. Inside, you'll find a collection of early pioneer memorabilia including extensive artifacts from Gravelbourg's earliest residents. Monsignor Charles Maillard, Dr. J. A. Soucy and Father Pierre Gravel are several of the historic figures profiled within the museum.
Exhibits include Dr. Antoine Soucy's medical collection, numerous town photos as well as sketches and paintings by the renowned painter of Our Lady of Assumption Co-Cathedral, Charles Maillard.
At the heart of Gravelbourg is the magnificent co-cathedral. The church was built of Claybank brick and Tyndall stone, common local building materials that can be seen in buildings all along Gravelbourg's First Avenue. While the exterior of the cathedral is undoubtedly stunning, it is the interior that has left unsuspecting visitors breathless.
It took French-born parish priest Father Charles Maillard from 1921 to 1931 to complete the cathedral's fully painted interior. During that 10-year period Father Maillard was often found high up on scaffolding, lying on his back, painting the church's high arched ceilings, Sistine Chapel-style.
All of the paintings you see inside the cathedral were done by Maillard, but he didn't sign a single painting because he considered himself a priest first and an artist second.
If you're an art enthusiast, visit the library inside the convent to see a collection of reproductions of masters of the Renaissance period and a religious statue that was created in Italy.
Your RV can't make the trek to Europe, but the cultural gem of Saskatchewan is within driving distance. Plus, you'll have a chance to brush up on your French on your way to Gravelbourg.
"Au revoir."