One bowl Dutch oven chocolate cake
This cake has been part of our family dessert table so long I can't recall the first time we had it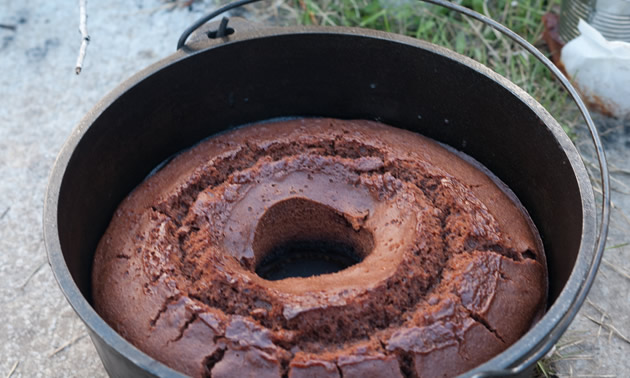 This is my mother's cake. It is as simple to make as a mix, and tastes better. This cake has been part of our family dessert table so long I can't recall the first time we had it.
"R" is for Reta—my mother's name—with an "E." I have a box of her recipes, part of my inheritance. She was a wizard with an IBM Selectric, hence this particular card is typed in addition to being spattered with cake batter for some five decades. This recipe card makes a cake for an 8" x 8" pan. I doubled it for the Dutch oven chocolate cake.
Why use a Dutch oven for chocolate cake?
Sometimes we do stuff just because we can—this is one of those things. I made this in my 12-inch Dutch oven on the May long weekend, adapting a trick my grandmother taught me about stove-top baking with her old WearEver aluminum cookware. This process is pretty much the same. Let's just say that by the time the last of the campfire logs were being consumed by fire, there wasn't much cake left.
How do I make Dutch Oven Chocolate Cake?
Light up 26 old-school Kingsford briquets once you have the dry ingredients mixed and the wet ones ready to go. (I pre-measure all the dry ingredients into a sealable bag and bring butter, eggs, milk and vanilla in the cooler.) Add all the ingredients in one mixing bowl with softened butter and once you add the hot water, beat hard with a whisk for two minutes. It worked great in the Dutch oven.
Equipment
26 Kingsford briquets
12" Dutch oven (the one with the legs designed for charcoal cooking)
Mixing bowl
Whisk or hand beater
10-ounce soup can, or other can that fits under the lid, emptied, washed and label removed
Stones to fill the can
Parchment paper for oven bottom
Dutch oven lid lifter
Dutch oven lid stand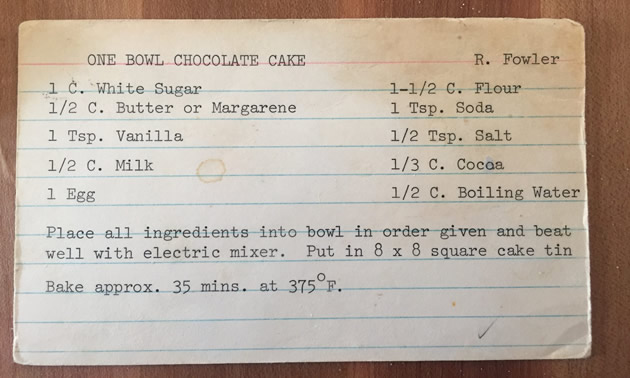 Ingredients for One Bowl Chocolate Cake (Mom's recipe doubled)
1-1/2 cups (375 ml) all-purpose flour
1-1/2 cups (375 ml) cake flour
2 cups (500 ml) white sugar
1 cup (250 ml) butter (soft or partially melted)
2 teaspoons (10 ml) baking soda
2 teaspoons (10 ml) salt
2/3 cup cocoa (160 ml)—I prefer Fry's Cocoa Powder
2 eggs
1 cup (250 ml) near-boiling water
Additional butter or Pam spray to lubricate the inside of the dutch oven
Method
1. Light 26 Kingsford briquets.
2. Line the Dutch oven bottom and about half an inch up the side with a circle of parchment paper.
3. Butter the inside of the oven and the surface of the parchment paper well.
4. Fill the tin can with rocks and set it in the middle of the Dutch oven.
5. Butter the outside of the tin can.
6. When the briquets are covered in white ash, place 17 briquets evenly within the rim of the Dutch oven lid, and place nine briquets under the oven. (This will give you an oven temperature of about 350 F)
7. While the oven is preheating, add the ingredients to a large six-litre bowl, hot water last, and beat until smooth—about two minutes.
8. Pour the batter around the tin can, into the oven.
9. Return the lid to the oven.
10. And bake 30 minutes. No peeking!
11. At 30 minutes remove the lid and test for doneness with a tooth pick. The cake is done when toothpick poked into the cake comes out clean.
12. Remove the oven from the briquets; remove the tin can carefully.
13. Place a dinner plate upside down over the cake and invert onto the plate.
14. Frost the cake with your favourite icing, or just sprinkle it with icing sugar.
Serve with whipped cream, ice cream, or anything else your fellow campers enjoy.

Note: You might be tempted to add more briquets. Don't. The cake will burn. If the bottom of the cake does get too toasty, just trim it off and pretend everything is fine. Because it is. Sometimes you do things just because you can. And once you do, you might find yourself doing them again. Life is short: enjoy cake.