Grizzly bears: A wild kingdom on Vancouver's North Shore
See Grizzlies at Grouse Mountain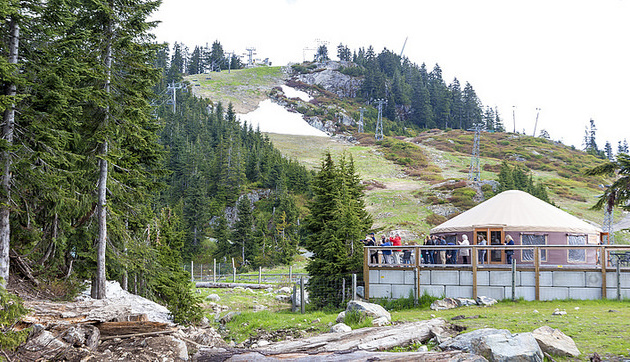 Vancouver, ever proud and protective of its reputation as one of the most beautiful cities in the Pacific Northwest, has much to offer tourists who arrive by land, sea and air. Its Coastal Range Mountains overlook forested wildlands and ocean views in every direction.
But while you may have expected the views, trails and a black bear or two at the top of Grouse Mountain, did you ever think it would be a likely place to have breakfast with grizzly bears?
Now 15 years old, Grinder and Coola are two grizzlies that were found orphaned in Bella Coola and Invermere, British Columbia, in 2001. They were brought to the Grouse Mountain Refuge for Endangered Wildlife and have lived there ever since alongside wolves, eagles, hawks, other birds of prey, hummingbirds and even bees.
Whether you arrive at the mountain peak by climbing the tough Grouse Grind trail, by Skyride or even by helicopter from Vancouver, you will be hard-pressed to take in all the activities in a single day.
Breakfast with the bears
For information on breakfast wth the bears, see www.grousemountain.com.
Hours and dates:
8:30 to 10:30 a.m. from May to October 2016 on the following dates:
June 25 to 30
July 1 to August 31: every day
September 1 to 5, 10, 11, 17, 18, 24, 25
October 1, 2, 8, 9
Bear activities
Bear watching and wildlife ranger presentations on the bear facts and conservation methods are followed by a "delicious bear-inspired breakfast" in the Grizzly Lookout Café.
Please check website for members' rates and requirements for tots age four and under. Cost:
Adults (19 to 64): $64.95
Seniors (65+): $59.95
Youth (13-18): $44.95
Children (5-12): $34.95
Tots (4 and under): $19.95
Families (2 adults, 2 children/youth): $184.95
Important information
With a nose that can scent a human being moving a mile or more away, grizzly bears are among the most awe-inspiring creatures in Western Canada. But as with all bears, coming between a mother grizzly and her cubs can end up in disaster or tragedy.
So even though Grinder and Coola have become accustomed to human beings and can often be seen tumbling and playing together, like all grizzlies they tend to be rather solitary animals and respect for their territory is essential.
More Grouse Mountain activities for summer and early fall
See and learn about golden eagles, peregrine falcons, hawks, owls and beekeeping from experienced wildlife rangers. Take photographs on a guided tour, hike the trails or hold your breath as you fly downhill on the mountain's zipline.
Other animal attractions on the North Shore
Tour the Maplewood Farm and petting zoo in North Vancouver
Watch for seals as you stroll along the West Vancouver Seawall
Visit the exhibits at the Capilano Fish Hatchery
Watch as seagulls circle and screech over the early fall salmon runs in the Capilano River