Bring the family to Barkerville for an adventure they won't forget
There are lots of family-friendly activities to be enjoyed at this restored gold rush-era town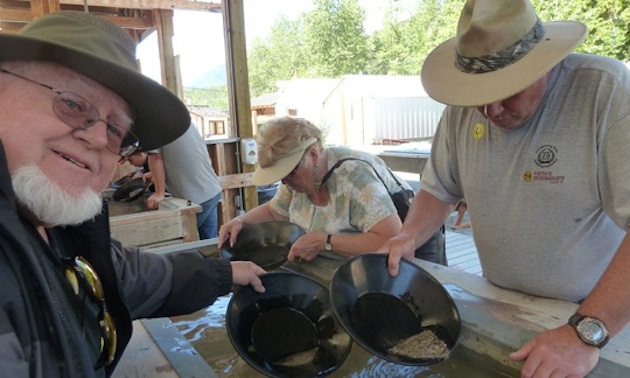 At the very end of Highway 26 east of Quesnel is the well-known and historic destination of Barkerville Historic Town, an authentic gold rush town. Rich in history and filled with activity, Barkerville is very much as it was when the prospectors and miners were here in the mid-1800s.
"Overall, what makes Barkerville unique and has a stellar experience for families is the fact that it's at the end of the road on Highway 26," said Dirk Van Stralen, the marketing and communications specialist for Barkerville Historic Town, "which is an Achilles heel and also its greatest asset. The experience of being on site in a beautiful, pastoral setting is very unique."
Second-day admission is only $2
Barkerville provides a great number of opportunities for visitors. Start by taking a guided town tour with a historic interpreter. Attend a court session for a lesson in frontier justice and see a lively show at the Theatre Royal—all the while learning about the history of Barkerville and the gold rush.
With so much to see and do in Barkerville it would be a shame if your visit were rushed. Since a second-day admission price is only $2, it's easy to stay. The price is a great deal for families, considering it really takes more than one day to see everything. A stagecoach ride, watching a traditional blacksmith at work or trying your hand at gold panning are things to look forward to. But don't stop there—there's even more!
Education in the goldfields
Kids can attend the Victorian schoolhouse and write on slates as children did in the 1800s and learn about what was expected of them during that period.
"It's definitely a highlight for kids," said Van Stralen. The schedule for the Chinese school lessons held at the Myatovic House can be located at the Visitor Reception Centre and shouldn't be missed.
There are all kinds of opportunities for kids to interact with interpreters in costume and for exploring this huge townsite.
Cornish waterwheel show
The Cornish waterwheel demonstration is a family highlight where kids are sometimes asked to volunteer their assistance. Learn about mining in the Cariboo and what the process was to extract the gold in Barkerville with an authentic wooden waterwheel. The show is done with comedy and fun and aimed to appeal to every generation.
"There is a level of authenticity that the experience of the site offers and I think is quite different from other family attractions," said Van Stralen.
The Canadian National Gold Panning Championships will be held in Barkerville August 10 and 11, 2013. Help celebrate Billy Barker's legendary strike and the beginning of the Cariboo Gold Rush in August 1862. Have fun panning for gold, participate in the games and activities and maybe win some prizes. Anyone of any age can participate in the competition.