Are you chicken? Alaska is
Don't get cocky, you haven't experienced Alaska until you visit Chicken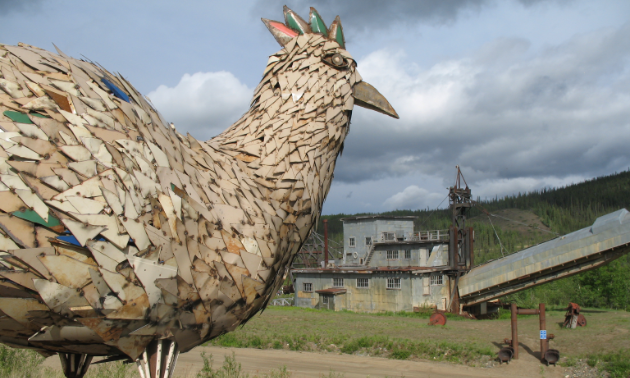 What came first: the chicken or the dredge? No one knows for sure, but there's one place to go to find both of those things.
If you enjoy fowl humour, Chicken, Alaska, is the place to go to crack a smile—along with an egg or two.
After a long winter of being cooped up, it's time to hatch a plan to break out and head north for some Chicken.
There are plenty of punny reasons to flock to this charming little town. The first of which is the classy gift shop. Inside, you'll find items such as a Chicken University Cluck U T-shirt, a patch that reads "I got laid in Chicken Alaska" and a candom, a beverage holder that resembles . . . well, use your imagination.
Another reason to visit this former gold mining town is the Pedro Dredge, which is adjacent to an outdoor Mining Museum with an assemblage of historical gold rush equipment and buildings, including a vintage machine shop. Pan for gold at stand-up troughs under the stacker of the dredge. Modern recreational mining is provided on historic gold-producing claims nearby.
After you've found enough gold to cap your teeth, squawk on over to the Chicken Gold Camp & Outpost. If you're feeling peckish, order up a platter of poultry. Downtown Chicken has more than a paltry supply of feed to peck at. Enjoy an egg and sausage soufflé breakfast and tasty fresh-baked scones with a mocha or latte in the café in the morning, then settle in on the porch for dinner with a wood-fired pizza and an Alaskan micro-brew.
Rest your rump in Chicken's roost: an RV park/campground that boasts 39 electric RV campsites located on a scenic bench of Chicken Creek.
Don't ruffle your feathers or balk at this sleepy town. Instead, bok bok bok your way over to a henhouse of activity within Chicken, Alaska. As the locals say, "Get the cluck over here!"