Trip planner: Everything you need to know before RVing or camping in Manitou Beach, SK
Check out the RVing opportunities in Watrous and Manitou Beach, Saskatchewan
People come from all over the world to soak in the healing mineral waters found at Manitou Springs Resort & Mineral Spa, but many don't know about the many other delights that Watrous and Manitou Beach have to offer. Visit Danceland for a memorable old-time dance experience, or camp at one of the local sites, and prepare for a rejuvenating stay.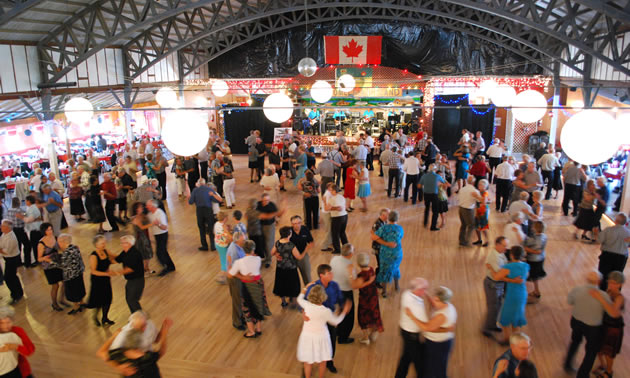 Only minutes from each other, Watrous and Manitou Beach are communities that share a symbiotic relationship, thanks to the buoyant waters of Little Manitou Lake. This lake, which has often been compared to the Dead Sea of Israel, contains naturally occurring minerals with such a high salt content that anyone who enters it will float. Little Manitou Lake might be the main reason why RVers, both young and old, flock to Watrous and Manitou Beach, but it's not the only reason. There are several other attractions as well.
Dance the night away
If you love dancing, but find the activity hard on your joints, head to the Danceland Ballroom at Manitou Beach. Built in 1928, Danceland features a 5,000-square-foot wooden dance floor that rests on top of a bed of horsetail hair, which acts like a cushion, allowing the floor to bounce. The unique architecture, along with the variety of musical acts that perform at Danceland, make it the perfect place to spend an evening out.
See the flora and fauna
Created in 1887, the Last Mountain Lake National Wildlife Area has, at one time or another, been home to more than 280 species of birds, including nine of which are either threatened or endangered in Canada. Many of the birds that have been seen here are simply stopping over on their way south. Fall is no doubt a great time to visit the area, but spring can be equally as rewarding since that is the time of year when the birds are breeding and nesting. In fact, if RVers visit at this time of year, they must be careful where they walk, so as to avoid stepping on nests. Visitors to the area can also discover the prairie wildflowers and natural grassland.
Get pampered
For those looking to enjoy the natural healing waters of Little Manitou Lake without the shock of stepping into cool water, there are the indoor pools at the Manitou Springs Resort and Mineral Spa. The pools are open seven days a week and they are divided into three separate temperature sections, including one for children. There are massage therapists and estheticians on site so if you want to get pampered, this is the place to go.
RV-Friendly Businesses Near Watrous and Manitou Beach