Wine as an event
At Yuma's Main Squeeze you'll get far more than food and drink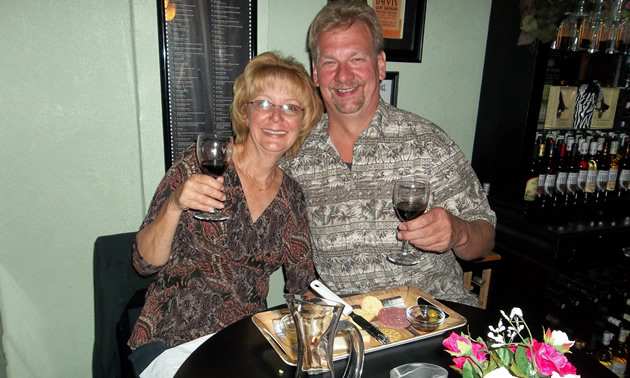 There are no vineyards in Yuma, Arizona. Lettuce, melons and citrus fruits, yes—but no vineyards. So how does Yuma's Main Squeeze get to be a custom winery in the heart of Yuma?
A second career
When Fred Earle became tired of his work in corporate America, he and his wife, Mary, turned to their hobby for a new livelihood. The couple had always enjoyed going out to wine tastings, so they joined a winemaking franchise. There they received training in various aspects of winemaking and marketing, and they turned that—along with their own enjoyment of the culture—into a business. October 8, 2013, marks the third anniversary for Yuma's Main Squeeze, a custom winery.
"We do things a little differently from a regular winery," said Mary. "We make wine from grape must imported from distributors in California and Canada."
She said that Canadians understand this type of business; home winemaking kits are popular in Canada because of the taxes on alcohol there. She went on to explain that sweet fruit wines are the best sellers at Yuma's Main Squeeze—to the tune of about 65 per cent of sales—followed by whites and reds.
"Our fermentation room measures about 60 feet by 10 feet," Fred said, "and we do almost everything in 23-litre batches, but we do have a few bigger tanks as well. We have about 52 different wines available, including fruit wines, reds and whites."
What the customers want
Yuma's Main Squeeze features a low-cost wine club membership with a social aspect. Membership includes two bottles of wine every month, two glasses of wine or tastings every week, and 10 per cent off anything purchased.
"It's nice for the customer to be able to come in and put a personal label on a bottle of wine, for gifts or special occasions," Mary said. "Our winter residents often will suspend their membership through the summer, and reactivate it in the winter."
The entry area of Yuma's Main Squeeze invites a return visit, as it hosts a changing display of locally created art pieces; the theme within the restaurant and winery is 1930s Hollywood.
"People love our atmosphere and our decor," Mary said. "It's fun."
Food and drink
Food is an important complement to the wine at Yuma's Main Squeeze, from cheese trays, paninis and pizzas, to full meals including desserts. For anyone interested, wine pairing is explained as well.
"Every July we have a batch wine sale so that people can start their wine and have it ready for Christmas," Mary said. "We have unassigned wine working all the time as well, so that if people come in and they haven't allowed enough time to do their own wine right from the beginning, they can still get what they're looking for—they can adopt from batches that we already have going."