Old-time farm equipment features in Wellton's tractor rodeo
Have you ever seen a spinach harvester?
by Jackie Dishner —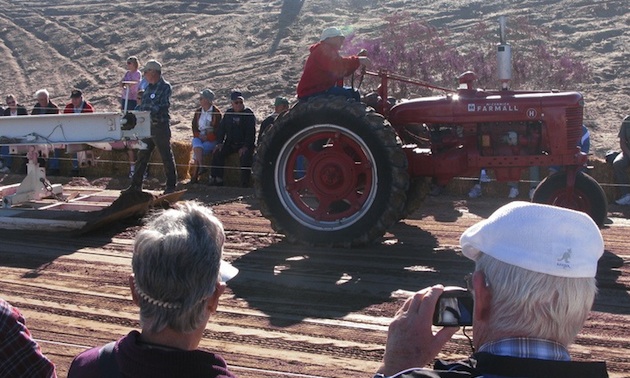 Who says you need a bull to make a rodeo? In Wellton, Arizona, all you need is a tractor.
January 18, 2014, the Wellton-Mohawk Irrigation and Drainage District grounds becomes the site of the 36th annual Tractor Rodeo. The main attraction for the more than 3,000 visitors who attend the show is the antique tractors and equipment.
Enthusiasts from all over Arizona and California bring their collections of old-timey farm equipment to put on display and discuss. Modern equipment shows up, too. Some of the names you'll recognize: John Deere, for example. Others, you may not: Kerosene and Avery. And you may not have known that Chrysler once built tractors, too, or that there is such a thing as a spinach harvester. These giant machines, with tires taller than your fifth wheel, operate on gas, steam or even hot air. You'll learn things like that at this unusual rodeo.
The weekend schedule of activities also includes horseback rides, a cow chip tossing contest, a parade, children's tractor events, weaver and spinner demonstrations, a sausage breakfast and barbecue lunch.
Rip-roarin' tractor pull
As long as you can take the dust and loud noise, you won't want to miss the antique tractor pull. Modified farm tractors are used to compete in dragging a metal sled loaded with heavy cargo along a predefined course. The tractor driver that pulls the sled the farthest distance wins. It's a pretty impressive sight to see if you don't mind standing.
Otherwise, keep walking around. History buffs will love looking at the vintage as well as the modern tractors and cars (a shiny black Studebaker circa 1929, for one) that look like they just drove out of Prohibition. You can even climb aboard a 1932 Sterling-Howe red firetruck and pull the string to see if the bell still rings. (It does.)
In between all that watching, food booths offer popcorn, peanuts, homemade pies, ice cream and other goodies for sale. Live Country and Western bands entertain the crowd. The event is a fundraiser that benefits healthcare projects and scholarship programs for the community.
Bring cash. It is sponsored by the Foundation of Yuma Regional Medical Center. Admission: $5. That's no bull!
To get there, take Exit 30 off Interstate 8 and follow the signs. For more information, call 928-344-2000.