5 things to do in Winslow, Arizona (No. 1 recommended by The Eagles)
This "Place of the little hills" is painted purple, red and orange and even has a turquoise room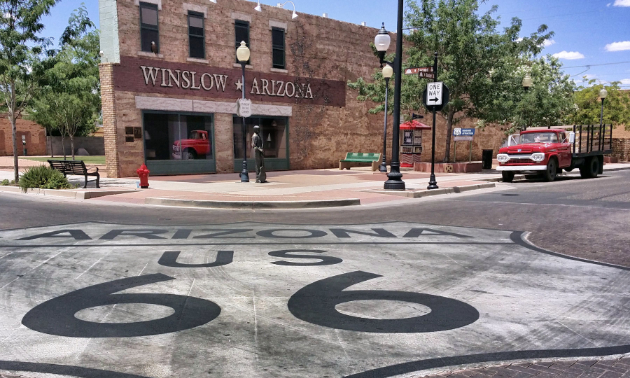 If you're a fan of The Eagles, visiting Winslow, Arizona, is a no brainer. After all, Jackson Browne and Glenn Frey of the iconic band gave it a glowing endorsement in their song Take It Easy:
Well, I'm a standin' on a corner in Winslow, Arizona
Such a fine sight to see
It's a girl, my Lord, in a flat-bed Ford
Slowin' down to take a look at me
Come on, baby, don't say maybe
I gotta know if your sweet love is gonna save me
We may lose and we may win, though we will never be here again
So open up I'm climbin' in, so take it easy
You too can take it easy and survey the scenery in historic downtown Winslow by having your picture taken at Standin' on the Corner Park. The park features a two-storey mural and a life-sized bronze statue depicting a 1970s man wearing jeans, boots, shirt and vest with a guitar standing on the toe of his boot.
While you get your kicks on Route 66, you won't need to go far to get to your next stop, the Old Trails Museum. It's located in the heart of Winslow's historic district and is an outstanding source of discovery for Winslow's history. It houses numerous exhibits and artifacts related to the Hopi and Navajo peoples, the Mormon's Brigham City, the Santa Fe Railway, area ranches and trading posts, Fred Harvey and La Posada Hotel, U.S. Route 66 and the historic TAT airport.
Winslow has a second, more traditional name: Homolovi, which is Hopi for "place of the little hills." To find out more about the ancient Hopi peoples who once inhabited the area, stop by Homolovi State Park. The Homolovi Visitor Center includes exhibits explaining the archaeology of the ancient people of Homolovi. Additional exhibits tell of the continuing tradition of Hopi pottery, carving and other art forms.
Homolovi State Park now serves as a centre of research for the late migration period of the Hopi from the 1200s to the late 1300s. You'll also find trails, a campground and covered picnic tables located throughout the park. Pullouts provide the opportunity to observe wildlife in this park of over 1,617 hectares (4,000 acres) at an elevation of 1,493 metres (4,900 feet).
The La Posada Hotel is a National Historic Landmark dating back to 1930. The building has been restored and now operates as a hotel. All rooms are beautifully furnished and each offers a glimpse of how it must have been to stay in this great hotel during the '30s. The surrounding landscape has three hectares (seven acres) of lawns, flowers and one of the largest stands of cottonwoods.
One of the key features of La Posada Hotel is the Turquoise Room. Some say this is the finest restaurant in the entire Four Corners region. The Turquoise Room was created in 2000 in an effort to re-create the elegant dining experience of the famous Turquoise Room dining car on the Santa Fe Railway's Super Chief. Everything was designed for this special setting: leather and wood chairs modeled on a La Posada original, brocade booths of emerald green, Verne Lucero's magnificent chandeliers, even Tina Mion's stained-glass mural of La Posada patron saints Ysidro, Pascual and Barbara.
Much of Winslow's beauty is so stone-cold stunning, you'll be caught in stilled silence as you take it in, much like the scenery itself at the Petrified Forest National Park.
Within an area of colourful and strangely eroded badlands are paleontological wonder-trees that have turned to stone and fossilized animal bones from 225 million years ago. At the northern end of the park is the Painted Desert, a vast area of purple, red and orange sediments which form colourful badlands. Facilities include the Rainbow Forest Museum, two picnic areas, curio shops and a restaurant.