Locals stick together in the Whistler arts scene
"Whistler's favourite artist" got his start at a sushi place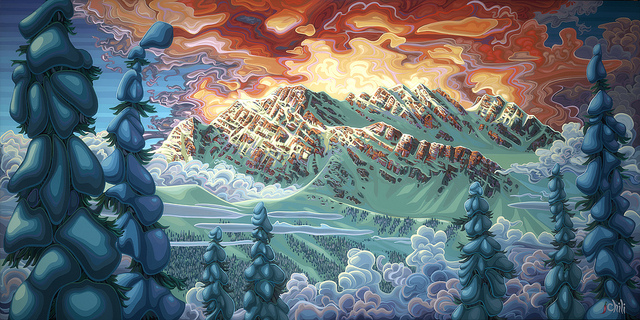 Whistler attracts an estimated two million visitors every year and those who want to take home something less kitschy than a keychain are able to feast their eyes on local art in several locations in the village.
According to local acrylic painter Chili Thom, voted Whistler's favourite artist every year since 2002, cafes and restaurants such as Sushi Village at 4272 Mountain Square offer some of the best browsing for visitors who have a craving for place-based art to help them remember their vacations.
Thom worked at Sushi Village before he decided to pursue painting and other creative pursuits full-time. When he started serving he said the walls of the restaurant were bare, so he "just started hanging stuff up."
"That was actually the way I first got recognized with my art around town," he said. "I took advantage of friends that owned restaurants, hung art in the restaurants and got a lot of exposure that way."
While there are many world-class commercial galleries in the village, Thom said that many local and up-and-coming artists have had to take advantage of community contacts to overcome the squeeze on studio and gallery space.
"It's important to local and upcoming artists that local businesses get on board and give them an opportunity," said Thom. "Aside from coffee shops and restaurants in town, in the village proper there's pretty much nothing."
Sushi Village owner Naoko Homma believes the art-in-establishments arrangement is a win-win.
"[Chili] used to work here as a server and he was very talented," said Homma. "It's nice to have his paintings in the restaurant. There are lots of artists displaying in restaurants because there are a lot of talented artists in this town and only a couple galleries."
This kind of support for artists of the corridor has appeared to be on the rise in recent years. The Whistler Arts Council operates the Scotia Creek Gallery, the only public art gallery in Whistler that gives artists of all ability levels and disciplines the opportunity to show their work in a professional environment.
The majority of the exhibits at the gallery showcase the artwork of local artists; in 2012, 11 of their 12 exhibits were of local content and showcased the work of over 100 artists from the Sea-to-Sky Corridor. Their next local art exhibit, which runs from April 1 to April 26, 2013, with an opening night on April 1, will be Night Lights, a night photography exhibit curated by Whistler-based photographer Arne Gutmann.
"The art community has been growing and growing every year," said Thom. "When I first moved here there were small collectives of artists and a lot of old-school artists around who had lived in Whistler for 30 or 40 years, but not really much going on. Now since art and the snowboard and ski culture scenes have started to take off—ski graphics and snowboard graphics are becoming a popular art form—I've watched the community grow from a handful of artists to hundreds. It's really fantastic to see."
Thom said that while he and many local artists continue to be inspired by their scenic surroundings, the recent rise of up-and-coming artists has given a "young, fresh face" to traditional landscape art being produced in the area.
"Everyone's really influenced by going up on the mountain and going mountain biking and skiing, so there's a dominant theme in the art," he said. "But you see that traditional landscapes are being fused into low-brow underground art. It's basically like a facelift on the typical idea of what landscapes are. There are a lot of new twists on it."