All revved up for transportation
This museum tells the history of automobiles, aviation and agriculture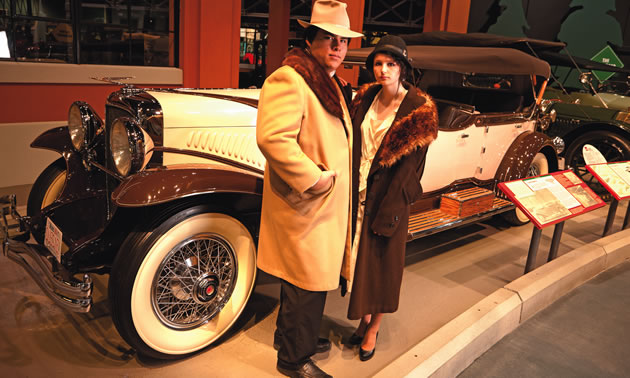 The Reynolds-Alberta Museum is an award-winning, state-of-the-art facility in Wetaskiwin, Alberta, that came from humble beginnings. It showcases thousands of pieces of Canada's rich transportation history and, most importantly, pays tribute to one man's drive to spark prosperity in his hometown.
When the museum's namesake and main benefactor, Stan Reynolds, returned home from the Second World War in which he served as a pilot, he saw a desperate need for new automobiles and decided to fill the niche.
"He realized production companies were in wartime production mode and new cars were scarce," said Cynthia Blackmore, marketing and communications director for the museum. "They were only available in small quantities from Ontario, so he began a car dealership."
Reynolds' motto was: "Stan takes anything in trade" and he meant it—including antique vehicles—and the legacy began there.
"His family members were collectors," said Blackmore, "so he had the collecting spirit."
Seeking out treasures to share
Because Reynolds was a pilot, he owned aircraft and would fly over farmers' fields looking for treasures. If he saw a vehicle that piqued his interest, he would land and approach the owner to work out a deal.
In the early '80s, Reynolds embarked on an initiative with the Province of Alberta to share his collection with the world, and the Reynolds-Alberta Museum was born. He donated 1,500 pieces between 1982 and 1986 and—along with several other donors, sponsors and partners—continues to donate portions of his collection.
"In our collection we have about 10 per cent of what he would have collected," said Blackmore. "The collection is ongoing as part of our mandate to collect what is relevant and significant to our themes."
The museum captures the history of transportation, aviation, agriculture and industry on its 248-acre facility. It is home to more than 88 aircraft—many from Reynolds—including Silver Dart and Avril Arrow replicas, and a 2009 Vindicator.
"The selection traverses the years between 1909 and today," said Blackmore. "We also have cars from the late 1800s all the way up to the new electric BugE."
Take a tour—whatever your style
As one of the most sophisticated and interactive facilities in Canada, the Reynolds-Alberta Museum offers something for everyone from the mildly curious to the revved-up car buff.
Travellers with a "lots to see and do" agenda can take to the skies in open cockpit biplane rides any day between the May and September long weekends. The more grounded traveller can tour the premises in a chauffeur-driven vintage vehicle or tour the Aviation Hall of Fame, a national organization that pays tribute to the people who pioneered aviation in Canada.