The desert: a good place for a bar
Visitors make the hour-long, bumpy drive from Brenda and surrounding RV parks for the relaxed atmosphere
by Jackie Dishner —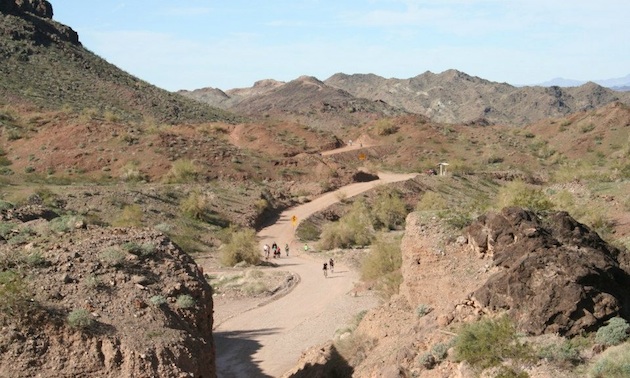 Talk about weird and wonderful. This place is both. Just five miles north of Parker, Arizona, then another five miles down a spooky, unpaved road in the middle of the desert, sits an unbelievable sight: a two-towered building and a church façade, both made out of an awful lot of scrap metal, recycled wood and other found materials.
The building, part of a series of buildings constructed over a period of 30 years, is called the Desert Bar. Hundreds of visitors eat dust each winter weekend (the only time this bar is open), travelling along a winding road to buy cold beer in cans and listen to live bands playing throughout the afternoon. They just put in a new kitchen this year and the barbecue-style food's not bad, and the chili's really good.
In between the faux church, where weddings actually take place, and the entrance is a large dirt parking lot where you'll find clues about whom you'll meet inside: drivers of mostly high-clearance vehicles, dune buggies and Jeeps. Some bikers, too. It's so far off the grid that it's only open from noon to 6:00 on Saturdays and Sundays. You'll want to get there early to find a seat. But talk to anyone waiting in line to get in, and they'll tell you, "This is a must-see… an awesome place… the ultimate hang-out."
Visitors make the hour-long, bumpy drive from Brenda and surrounding RV parks not just for the canned beer and live music, but also for the atmosphere: relaxed, laid-back and lots of fun. Once an old mining camp at the base of the Buckskin Mountain range called the Nellie E, the Desert Bar features quirky things to look out for if you go: a bridge to the entrance, a fire pit suspended from the ceiling, unusual bar stools that swivel from side to side, stamped tin tiles, restrooms with picture windows that expose gorgeous mountainside views, and T-shirts for sale.
To get there from Brenda, take Arizona State Route 72 to U.S. Highway 95 at Parker. About five miles north of Parker, turn east on Cienega Springs Road. It turns into Nellie E Saloon Road and this road dead-ends at the site. Take a four-wheel-drive or high-clearance vehicle in case you want to explore other trails in the area. Because the site is rustic, the ground uneven, and the potential to run into desert critters is high, wear closed-toe shoes. To find out more visit thedesertbar.com