Watrous and Manitou Beach: unsinkable fun for all
Find a variety of fun that bridges the generation gap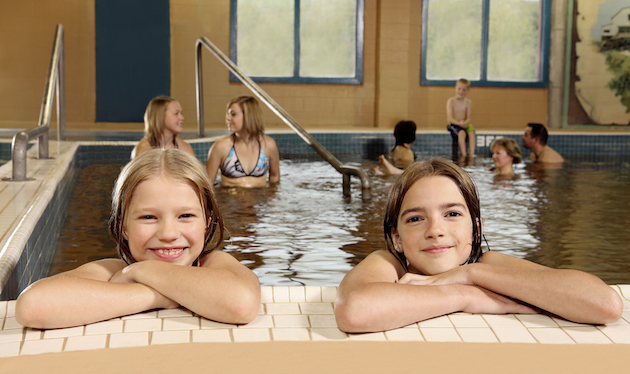 Saskatchewan's Watrous/Manitou Beach area is the home of the famous Manitou Springs spa waters, once the most popular hot springs in all of Canada. There's new life in the springs these days, with recent renovations making the pools a favourite family destination while the day spa—which features new additions—offers a break from the kids.
RV park and golf
With a variety of pull-through, serviced and non-powered sites for RVs, the Manitou & District Regional Park boasts a playground for younger campers as well as trails to nearby Wellington Park, where you can have a little stroll beside the stream, claim a picnic table for lunch, visit Wellington's playground or pick saskatoon berries in season.
The park also offers golf and camping packages that give you two nights of camping along with two nine-hole rounds of golf with power cart and two buckets of range balls. And with a nearby minigolf course overlooking the beach and disc golf for those who like golfing of a completely different variety, there's plenty of fun to be had within walking distance.
Watch a movie or dance the night away
Perhaps one of the area's most popular attractions for families of all generations is the Jubilee Drive-In. One of the last active drive-in theatres in the province, the Jubilee offers a trip down memory lane for older family members and a fun introduction to the drive-in movie for kids of all ages. Just don't forget the blankets and pillows for those who can't stay up past the opening credits. Open weekends from May to October and nightly through July and August, the drive-in offers a great way to help bridge the generation gap.
The same can be said of the wildly popular Toonie Tuesdays evenings at Danceland, Manitou's historic landmark dance hall built in 1928. For a toonie you can dance the night away on the world's only remaining dance floor built atop a cushion of horsetail hair.
Unsinkable fun
For kids of all ages, the biggest attraction at Watrous/Manitou Beach will always be the beaches themselves. Here you'll find three, each with its own washroom and shower facilities, a playground and access to Little Manitou Lake. Kids always have unsinkable fun in the lake's buoyant water thanks to the rich mineral content. Little Manitou is said to possess healing powers similar to those found in the Dead Sea of Israel.