Watrous and Manitou Beach offer a taste of relaxation
Not far from Saskatoon is a resort experience that will rejuvenate you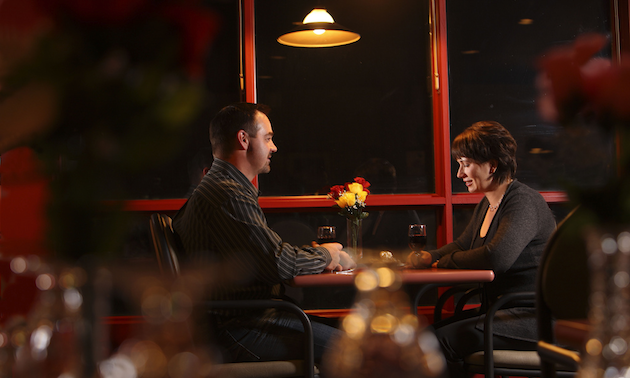 Eighty years ago the waters of Little Manitou Lake rivalled the mineral springs at Banff, with upwards of 15,000 visitors each summer descending upon this tiny town just east of Saskatoon. They came to float away their cares in the buoyant and rejuvenating waters in an experience that some equate to floating in the Dead Sea—only better.
Today, the waters continue to receive thousands of visitors from around the world and the communities of Watrous and Manitou Beach are ready for them, offering a place to unwind, sit down, relax and enjoy a fine beverage or meal, so that they can be truly fortified to jump back up again and dance the night away.
One such relaxing venue is Sam's Steakhouse, open from early in the morning till late in the evening. Guests of the Manitou Springs Hotel and Mineral Spa, where Sam's is located, receive a complimentary hot breakfast with each stay. With a second-storey view of the lake from expansive windows, breakfast at Sam's is a great way to start the day. Sam's is also a great place to grab a bite for lunch, and if you're looking for a place to share a romantic evening meal, the setting couldn't be any better. The comprehensive menu of appetizers includes shrimp scampi, bacon-wrapped scallops and artichoke spinach dip, as well as appetizers featuring the Greek heritage of owner Sam Tourlouki: spanakopita with tzatziki and lemon-crusted calamari.
For the main course, guests have their choice of house specialities that include lamb souvlaki, Greek salad, barbecued ribs, or the famous steaks Sam's is known.
Out and about
For those looking to venture out into the community, the perfect stop along the way, located right on Main Street, is the Village Perk café. With breathtaking views of the lake, a colourful interior decor, and a cute and quaint retro feel, the Village Perk serves up specialty coffees, light lunches and delectable desserts.
Manitou Beach also offers a one-of-a-kind dining and dancing experience at the nearly century-old Danceland, where the architecture of one of the oldest dance halls in existence will take your breath away. Dancers will find the maple hardwood floors still feature the original horse hair underlay, as was the convention back in days gone by—a special feature that adds a certain "spring" to dancers' steps. Just before the music starts, dancers can also enjoy one of Danceland's famed prime-rib buffet dinners, sure to give you the energy you'll need to dance the night away. Here at Danceland, shows include visiting swing bands, big bands, solo singers and other performers, all with one purpose in mind: to get you up on your feet.
Fun, relaxation, fantastic settings and tastes galore are the flavourful finds at Watrous andManitou Beach.