The Dead Sea of Canada is rising in popularity
This town's hidden treasure lies within its unsinkable water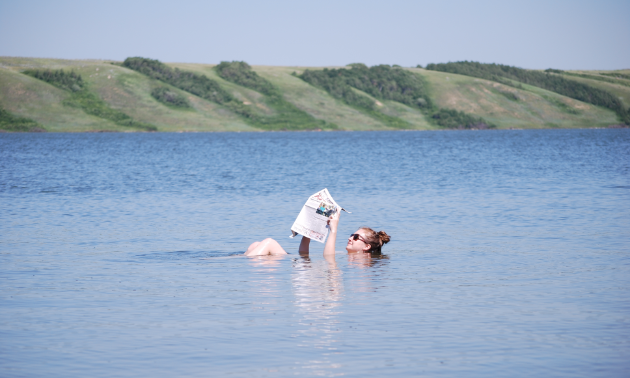 Walking on water during winter is easy in Canada—ice fishing, anyone? Floating effortlessly on water—regardless of the time of the year—is an entirely different experience and much rarer, especially in a country as cold as Canada. Enter Watrous, the mystical, mineral-rich Saskatchewan town that is home to the "Dead Sea of Canada," Little Manitou Lake.
"Many people around the world, especially seniors, understand what the Dead Sea in Israel is all about," said Brendan Manz, community development officer with Watrous Manitou Marketing Group. "Being one of the only other bodies of water like it in the world, calling it the Dead Sea is a natural fit and is able to provide potential visitors an idea of what type of experience they have before they even arrive."
Little Manitou Lake is a heavily mineralized lake that is unique in all of North America. It is a closed-basin lake with rich mineral deposits left by the last glacier 12,000 years ago. Like the Dead Sea, the mineral composition and density of the lake is so high that it is impossible to sink. The minerals also provide healing properties that are great for the body. "The weightlessness of floating in the water provides great relief to those with muscle and joint pain," Manz said. "The minerals themselves are great for your skin, hair and nails. Chronic arthritis sufferers have found relief, and skin conditions such as psoriasis and eczema are actually cured by the water!"
If you visit Watrous during one of its frigid times of the year, you can still revel in the wonders of Little Manitou Lake by visiting Manitou Springs. The resort hotel features one of Canada's largest indoor mineral spas. Water from Little Manitou Lake is pumped into the facility and heated between 34 and 40 degrees Celsius, giving guests an opportunity to enjoy the water year-round.
Feel like floating yet?