Dance on the shore of Canada's only salt water lake—Saskatchewan's Little Manitou Lake
Some folks at Manitou Beach have been dancing for a lifetime—and still are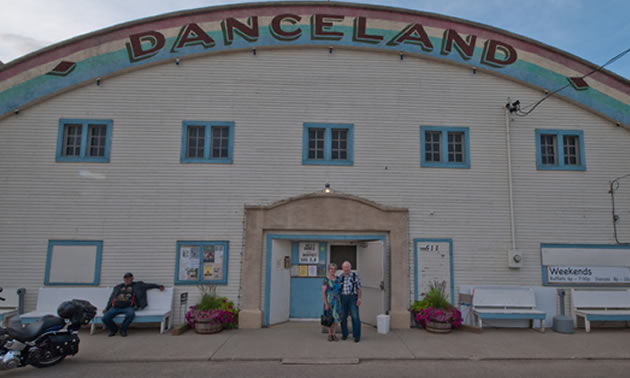 Danceland dancehall, on the shores of salty Manitou Lake just north of Watrous, Saskatchewan, has been a landmark for locals and travellers for nearly 90 years. The perfect day at Manitou Beach? Take a dip in the saltwater lake, book a spa treatment at Manitou Springs Resort Hotel and Mineral Spa and then prepare to kick up your heels at Danceland.
Danceland has a personal connection—my wife's parents had their first date at Danceland. On a recent camping trip to Saskatchewan, we camped at the municipal campground near Manitou Lake and joined the fun on Toonie Tuesday at Danceland.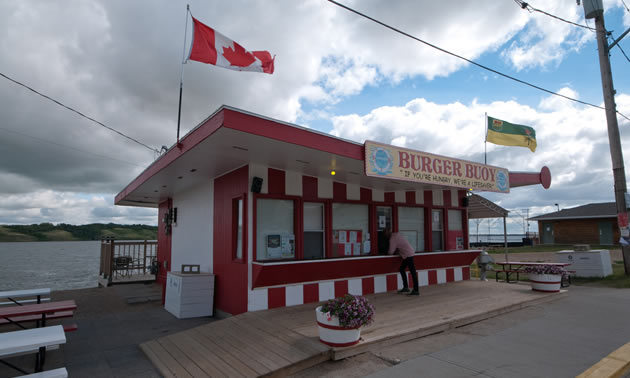 90 years of dancefloor fun
While the first "dance pavilion" was built in 1919, the current Danceland was constructed in 1930. Danceland's claim to fame is the 15-centimetre (six-inch) horsehair-padded floor and its longevity—decades of dancing. The facility has expanded and changed hands over the years all the while providing a venue to dance and socialize on the shores of Canada's only saltwater lake: Manitou Beach.
Toonie Tuesday family dance
One of the things I like most about Saskatchewan is it is full of people who have the time to talk with you. They are proud of their province and their history and are happy to share what they know with you to enhance your experience of visiting their province. While waiting for Danceland's doors to open on Toonie Tuesday, we met Agnes and Lester Orson of Hanley, Saskatchewan. They have been dancing at Danceland dancehall for more than 55 years, and they are proud of it.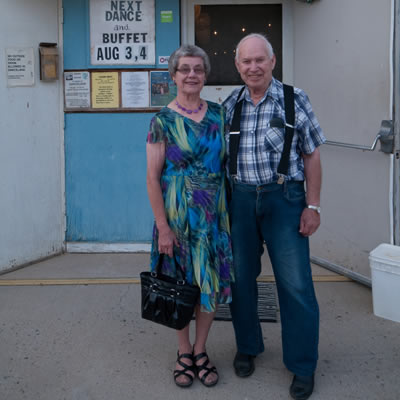 "Polkas, waltzes, I love them all," said Agnes, before taking Lester's hand and heading inside for Toonie Tuesday's family dance.
That Tuesday night an accordion, six-string guitar, electronic organ and guest fiddler Rolled Out The Barrel, did the Chicken Dance, I'll Fly Away and went Fishin' In The Dark before taking patrons on a trip to Margaritaville.
The lady who collects money at the door said, "I won't know exactly how many people are here tonight until I count the money and divide by two, but it looks close to 300."
The hall was full of multi-generational families having fun.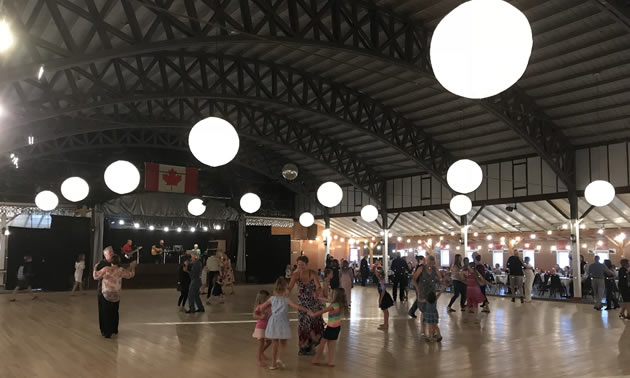 Horsehair floor is something special
Through friends I was introduced to Charlie Johnson, market gardener, local resident and one-time tour guide, who said, "It's a one-in-a-million facility. The floor is really three floors: the base floor, the horsehair floor and the hardwood top. Your legs don't burn (while dancing) like a regular floor, and you can really get moving."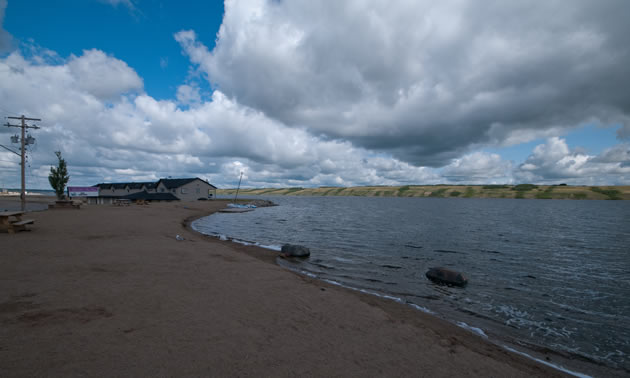 Charlie and his partner, Marie, run a market garden east of Watrous and used to take their goods to the local farmers market, but now customers come to them. They raise meat rabbits, goats and Cornish-cross chickens for roasting, and keep a brood of Leghorn layers for fresh eggs. You can find Charlie at Charlie's Acres by driving north toward Manitou Beach on Highway 365 then east on Highway 668 for five kilometres (three miles); go straight east instead of following the curve north and turn south at the next intersection. Charlie's is on the east side of the road two kilometres (one and a half miles) south of Highway 668.
Danceland is a slice of prairie history. Invite yourself into a conversation with some oldtimers and you will hear that history first-hand. And you might get yourself invited to a round on the dance floor—best be prepared.