Best of Vintage RV 2019: #7 - Early 1970's Triple E Motorhome
Based on the square windows and the front grille configuration we are guessing that this is a late 1960's or early 1970's Triple E model.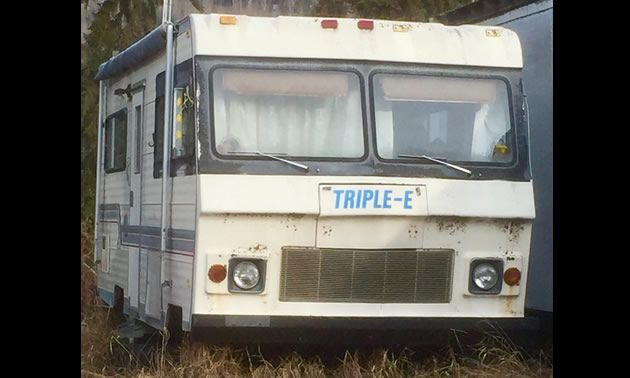 Over the next 10 weeks we will feature the Top 10 Vintage RV articles we have ran on the RVwest website over the last year. We have ranked them according to the number of "likes" each posting received on the RVwest Facebook page.
So enjoy our list of the Top 10 most popular Vintage RV postings from the last 12 months — in our annual feature called 2019 Best of Old Vintage RV.
At Number 7 this week with 161 likes, we feature the iconic Triple E motorhome:
Here is one of the earliest Triple E motorhomes we've seen in a while. We found it tucked away in a tiny B.C. community with a TV antenna jutting out of one corner. Obviously, it is someone's home-away-from-home — complete with an in-house television system.
Based on the square windows and the front grille configuration we are guessing that this is a late 1960's or early 1970's Triple E model, manufactured not long after the Canadian company started to make motorhomes in 1967. If you compare the historical photo of one of first Triple E motorhomes (see below) you can see distinct similarities to this model.
According to a 2015 article in RV Dealer News, submitted by Walter Siemens, Triple E celebrated their 50th Anniversary back in 2015.
Here is part of Walter's report on the history of Triple E in Canada:
"The year 1967 was significant for Triple E in another way, as the company made history by unveiling the first Canadian-built motorhome. The 22-foot unit, called the Caravan, was fully equipped and mounted on a modified General Motors milk van chassis, since GM did not have a motorhome chassis in production at that time. Later that year, GM sent several design engineers to Winkler to study and photograph the design refinements that P.W. had made. These refinements were then incorporated into all future GM Class A chassis production.
The business continued to grow, and in the late 1960s Triple E caught the eye of Vancouver-based entrepreneur, Jim Pattison, who was acquiring Canadian recreational vehicle manufacturers. Triple E sold the business to Pattison in 1969, with the three Es remaining with the company and continuing to develop new products. It was a positive transition, as Pattison brought the needed expertise and marketing skills to support the company's rapid growth. That partnership was to be tested on March 29, 1972, when a major fire destroyed the entire factory.
After making the decision to rebuild, Triple E purchased the facilities of another RV manufacturer in Winkler, and the business was soon back up and running. But it was to hit another snag the following year when the 1973 oil embargo hit the recreational vehicle industry hard. Pattison had had enough, and sold Triple E Canada Ltd. back to the family."
It's not often you hear of Jim Pattison having enough and getting rid of a business opportunity, but his foray into and dramatic exit of the Canadian RV industry is well documented — though it is said that Pattison still holds the patent to the iconic Boler fibreglass trailer design.
Here's a bit more on Triple E: "Triple E was founded by P.W. Enns, an entrepreneur at heart, who operated a plumbing and heating facility in Winkler, Manitoba. P.W. first took an interest in manufacturing travel trailers while visiting Elkhart, Indiana, on a volunteer trip. Being an inquisitive person, he was always eager to try new things, so he bought a torsion axle and brought it home to incorporate into his newly-designed travel trailer."
The rest is history, as Triple E became Canada's premiere motorhome manufacturer for many years and nowadays the Manitoba-based company concentrates solely on the production of Leisure Travel Vans.
In view of the TV antenna poking up above the roofline, it has left us wondering — how's the reception?
Share your classic RV restorations, or tell us your favourite story about a cool vintage unit you've encountered by filling out our Classic Vintage RV form.