History and mystery at the Caetani Cultural Centre in Vernon
Caetani family roots date back to eighth century Italy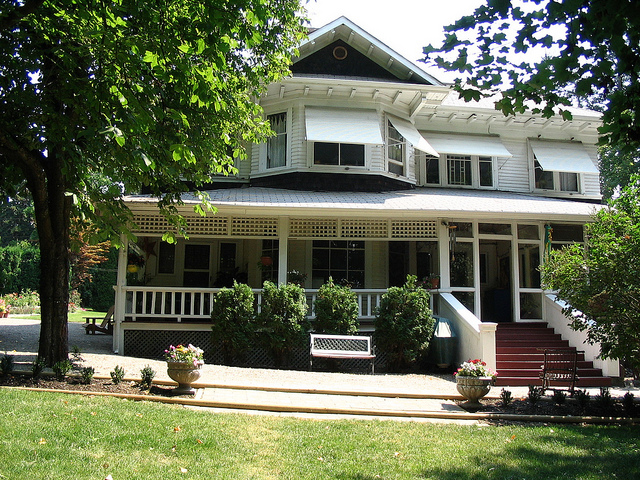 The Caetani Cultural Centre in Vernon, B.C., may be opening its doors to new artist-in-residence opportunities and summer programming for the public, but not everyone always moved so freely on and off of the property. Before being bequeathed to the Caetani Cultural Centre Society in 1994, the storied estate served as the home of the once-illustrious Caetani family and the childhood home-cum-prison of recently deceased artist Sveva Caetani.
"Both the Caetani Centre and the Caetani family are well-kept secrets; we don't really have a sense here of how important that family was," said society manager Susan Bardoli. "The home is one of mystery and intrigue with roots dating back to Italian aristocracy and eighth century Italy."
On a visit to Italy in 1997, Bardoli remembers standing on the ancient roman road the Appian Way with a Caetani historian, looking on as he gestured from the mountains to the Mediterranean.
"At one time they had owned something like 2,000 square kilometres of land," she said. "They had a medieval castle on top of a mountain which is now an international music school. They had villas in Italy, a villa in the Mediterranean that got taken over by Mussolini in the Second World War and is still under dispute. A medieval pope in the 12th century was a Caetani. They were all statesmen and involved in politics. [Sveva's father Leone Caetani] was a prince; his titles were Prince of Teano and Duke of Sermoneta."
Bardoli said that as a socialist, Sveva's father came under fire during the rise of the fascist movement and in 1921 he moved her and her mother, Ofelia, to Vernon.
"Apparently he used to go bear hunting in the 1880s and he came here to go bear hunting one time," said Bardoli. "When political circumstances forced him to leave Italy, he probably thought he would go to the ends of the earth to get away from all of that, and at the time Vernon probably was the ends of the earth."
Bardoli said Sveva lived a privileged life with her parents until the stock market crash in 1929 decimated their vast fortunes and the death of her father in 1935 devastated her mother.
"Sveva's mother clung to her, she just sort of took over," said Bardoli. "She was this very obsessive-compulsive woman, and very antisocial because she was concerned about her accent and speaking Italian. She had a very difficult time here, and when Sveva's father died she kept her daughter locked up in the house for many years, unable to go outside."
Sveva was effectively housebound from 1935 until 1960 when her mother passed away. Sveva was left with little to support herself.
"To her credit, she obtained her teaching certificate and went on to teach at local schools and to become a much-loved and respected teacher and mentor," said Bardoli. "She basically pulled herself up by her bootstraps, took herself out to Victoria, got a teaching certificate, and made something out of her life. That's how she's remembered in this community."
In her later years, Sveva created a series of surrealist autobiographical watercolour and gouache works entitled Recapitulation, which Bardoli said she believes were influenced by being forced to be "alone with her books" in the Caetani house.
"She could write and she could draw and that's how she kept herself going," Bardoli said.
Having met Sveva personally, Bardoli said she is passionate about fulfilling Sveva's wishes and "getting the house up to code, opening the house to the public, repatriating her work [which currently resides with the Alberta Art Foundation] back here and having a wonderful artist-in-residence program."
While the society is still working to satisfy building codes and open the interior of the house to the general public, visitors are welcome during the summer months when outdoor programming is possible.
"The centre has been focused in the past on bringing the house up to code. These old heritage houses are full of surprises," said Bardoli. "However, we have been able to open six artist studios for the residency program and our summers are full of outside events such as the Saturday morning art markets, advertised workshops and special events, and a lovely fundraiser and art auction called A Splash of Red in late August."
Bardoli said the centre has also worked with performing artist Christine Pilgrim, "who does wonderful and informative performances based on characters taken from the Caetani story," as well as Gabrielle Neumann, who "conducts the famous ghost tours around Vernon and also has a few stories up his sleeve about the Caetanis."
Other collaborators include artist Michele Loughery, who is completing a a mural project in Vernon about immigration and its challenges called the Sunflower Project.
"Sveva was an artist and she wanted to assist other artists to be all that they could be," said Bardoli. "In my conversation with her that was always paramount—that her house and her grounds always be used for furthering art, whether it's music or performance or visual, anything—writers, she was a writer herself, that was her goal, and that's her legacy. If you met her you would never think that this person had been basically kept a prisoner, she was so theatrical, so outgoing, she was very gregarious even, and she had a huge spirit.
"It would be a real shame for this to be lost in time," said Bardoli. "The story is a great one and I think it needs to get out there and the centre is really dedicated to transforming itself into a really vibrant cultural centre, so that we can make her wishes come true, so that the house is used in the way that she had hoped it would be."