Engaging with B.C. history
Historic O'Keefe ranch is a vibrant legacy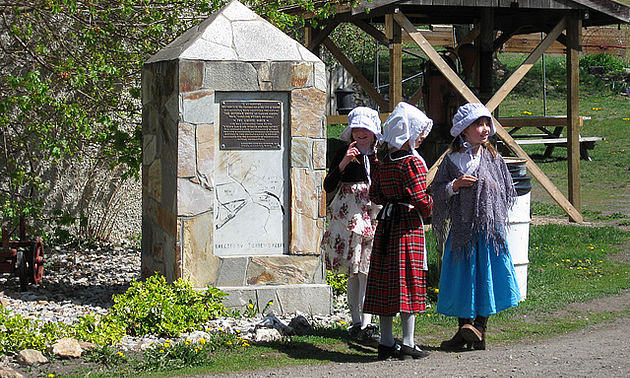 It has been just over 150 years since the first cowboys drove herds of cattle from Oregon up to Barkerville, B.C., to feed the gold miners. Discovering abundant bunch-grass in the Okanagan Valley, the cattle owners and drovers began settling there to raise their herds.
Located in the Township of Spallumcheen and owned by the nearby City of Vernon, Historic O'Keefe Ranch began as a log house and acres of grass. Cornelius O'Keefe was a community builder—he established a general store, gristmill, blacksmith shop, church and cemetery, and the ranch became a gathering place for newcomers. Through O'Keefe's efforts, the first post office was established in 1872 in what is now Vernon, and thus mail service was begun for the area via a weekly stagecoach.
The family prospered, and in 1967 one of the O'Keefe descendents decided to turn the ranch into a tourist attraction; about 10 years later it was sold to the Devonian Institute of Alberta. The Devonian eventually sold the site to the City of Vernon for $1.
The O'Keefe mansion—quite a step up from the original log house—is a favourite feature of the ranch and the only feature that requires a tour guide.
"Everything else is self-guided, with a map," said Marilyn Berglund, group tour and event co-ordinator for Historic O'Keefe Ranch. "But because of the value of the items that are in the house—the antiques, the fabulous Meissen china—it has to be guided."
Other attractions are the cowboy dinner shows—which take place six to eight times per year—and the O'Keefe Cowboy Summer Festival, now in its 20th year. The dinner shows pay tribute to the history of the cowboy, with food, original songs and music, and a variety of activities. The summer festival takes place on the August long weekend and celebrates the working cowboy.
"In the interior of B.C. we have cowboys who are working the ranches just as they did 150 years ago," Berglund said. "These guys still use horses, not ATVs."
Berglund said visitors can easily spend an entire day at the ranch.
"We have farm animals, a very nice agricultural area and a kids' playground," she said. "We also have a phenomenal model train. The North Okanagan Model Railroaders have been building it for 30 years, continually updating it. It's HBO model, meaning it's kid-sized. It's a model of the Shuswap and Okanagan Railway, so it shows the original railways throughout B.C."