Edible abundance in Vanderhoof
The Bulkley-Nechako Valley in central B.C. is home to a thriving agricultural sector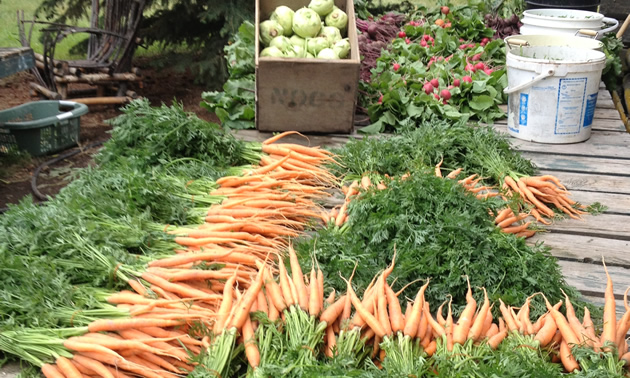 Vanderhoof is located on Highway 16 in the beautiful, fertile Bulkley-Nechako Valley at the geographic centre of British Columbia. It is both a district and a town, with a mayor and council and a population of about 4,500 people. The area's economy is supported by forestry and agriculture.
The community was named after a Dutch settler, Herbert Vanderhoof; in Dutch, the name means "of the farm." Some of the nearby farms sell their products at the Vanderhoof farmers market, which takes place on Thursdays from mid-July to mid-September, and on one summer Saturday per month. The farm products include honey, beef, pork, poultry, eggs, grains, flours, cornmeal and even a colourful array of piglets and chicks—though the livestock doesn't usually appear at the Vanderhoof market. For most of the meat and produce, there's an organic option.
From mid-June to September, Linda and Don Borno of Borno Farms provide boxes of freshly harvested CSA (Community Supported Agriculture) produce to their customers on a weekly basis. Succession planting ensures a constant supply of fresh, crisp salad ingredients throughout the summer, and unless you're prepared to be disappointed in your grocery store's offerings, don't even taste the Borno Farms' carrots. You will find the Bornos and their produce—including fresh, seasonal herbs—at the Vanderhoof farmers markets.
The market vendors include local bakers, jam makers, preservers, artists and artisans. Other Highway 16 communities, including Smithers, Fort St. James and Prince George, also have summertime farmers markets.