Paul McCartney's Arizona ranch
RVers aren't the only ones who like Tucson. One of the Beatles spent many happy days there as well.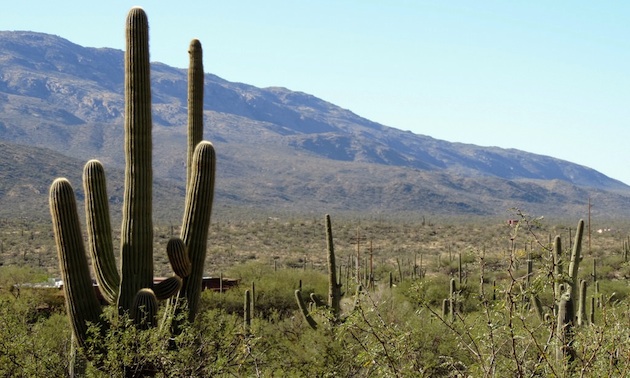 Paul McCartney has a major connection with Tucson, Arizona. His first wife, Linda Eastman, attended the University of Arizona, where she studied art history and developed an interest in photography. In 1969 Paul and Linda married. During the same year, the Beatles recorded the song Get Back, with the lyrics mentioning Tucson. Throughout their 29-year marriage, Linda became known as an animal rights activist, author of vegetarian cookbooks, founder of a vegetarian food empire, and later a musician in Paul's band Wings. The band even performed a concert in Tucson on June 18, 1976.
Paul McCartney's ranch
Three years later, Linda and Paul returned to Tucson and purchased 151 acres near the Tanque Verde River in the foothills of the Rincon Mountains, northeast of Tucson. The ranch property is located south of Redington Road around Mile Two. The ranch has a closed gate, but from the road, the corral and stables and other buildings can be seen with binoculars. Because of its location, the ranch provided the family with privacy and was connected to the outside world by a helicopter pad. Having four children, the family spent time together here during the spring and fall for 19 years. Frequently the family thrilled the locals when seen shopping or eating out in Tucson.
The ranch house from the outside is not palatial like other houses in the area, but appears to be a comfortable family home. The property backs onto the Tanque Verde Ranch and the two ranches provided the opportunity for Linda to pursue her interest in her two Appaloosa horses, Spot and Blanket.
Get back...
Linda and Paul obviously enjoyed their life at the ranch, but happiness did not last. In 1995 Linda was diagnosed with breast cancer and passed away in 1998, aged 56. Since then Paul has not spent a great deal of time in Tucson, but his company MPL continues to pay the taxes on the property.
The words of the song Get Back keep running through my mind and I now wonder if JoJo might be a reference to Paul.
Jo Jo was a man who thought he was a loner, but he knew it couldn't last.
JoJo left his home in Tucson, Arizona, for some California grass.
Get back...
Get back...
Get back to where you once belonged.
Where to go RVing in Arizona
For more information on places to go RVing in Arizona, check out this article.