Head to Tumbler Ridge if you're hungry for classic rock
It's practically illegal to leave the festival without trying the famous taco in a bag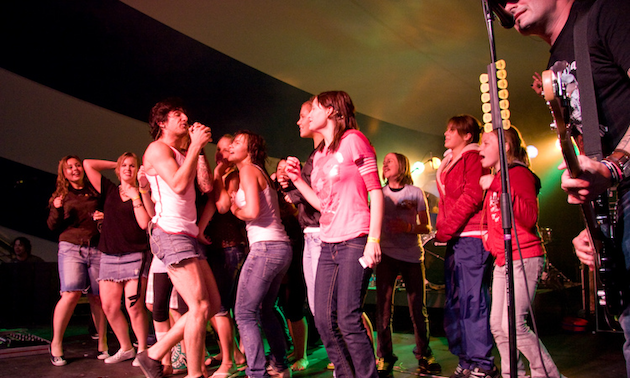 Grizfest is the proverbial altar for Canadian talent. Festival visitors rock out for two days to all the classic and contemporary tunes they can handle, with a talent roster that has boasted the likes of Lee Aaron and Carly Rae Jepsen, Helix and Daniel Wesley. Drawing crowds for its 12th year running, Grizfest pays ample homage to the local scene too, with vocalist and Battle of the Bands contests. Winners get to open for the big names.
Joy McKay, organizer of the event, said this year's lineup promises more of what thousands of weekend music warriors have come to expect from this event, which has in many ways put Tumbler Ridge on the map.
"We get at least 2,000 a day," she said. "One year we got close to 3,500 in a day. The big draw lately has been classic rock, so we're going to try to keep with that."
What to expect this year
The 2013 roster isn't final yet, but McKay said visitors can definitely count on the Scottish-pride-fuelled punk rock of The Real McKenzies and some classic '80s rock from the band Toronto.
"There are a few camping spots at Grizfest, but they tend to sell out quickly," said McKay. "But this is Tumbler Ridge and there are a million gravel pits, river banks and other places people settle in for the festival."
Food to fuel the fans
Almost as nourishing as the music is the Grizfest food vendor village, where 12 to 15 of the area's finest chefs-on-the-go wheel up for a weekend of culinary delight. McKay tries to mix up the fare on offer—15 burger trucks would be mayhem—and loves it when vendors serve up something new and interesting.
"We have the yearly regulars—ice cream, cotton candy, the local Lions club, and others," she said. "We've also had fish and chips, chicken and curly fries and buffalo burgers."
Bannock, pickled vegetables and kettle corn have also been on the menu. Roxanne Trudeau, tourism representative for Tumbler Ridge, said the vendors have offered up the best in comfort food including butter chicken and pulled pork, but the all-time Grizfest favourite is taco in a bag.
"It's fairly simple," said Trudeau. "They take a bag of taco chips, break it open along the middle seam, and put a scoop of taco-flavoured beef inside. They sprinkle some tomatoes and green onions, and add salsa and sour cream. Then they serve it up right out of the bag."
The idea may have originated with the Tumbler Ridge Arts Council, but the local graduating class brings taco in a bag to Grizfest every year as a fundraiser.
"It's a big hit," said Trudeau. "They sell out every year."