The best local flavours to be found in Tucson, Arizona
Tuck-in to the local flavours of Tucson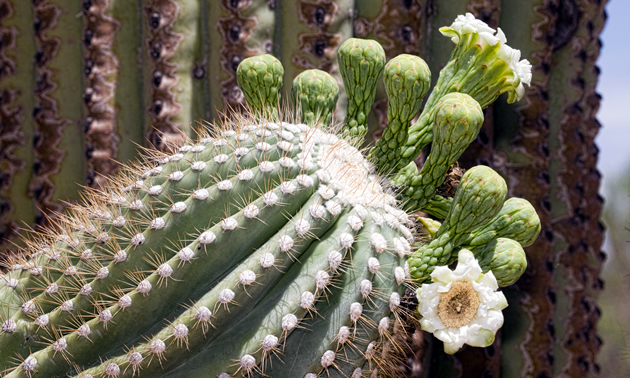 Are year-round farmers markets and traditional cooking two of your travelling must-haves? Both can be found in Tucson, Arizona, in addition to the area's Sonoran Desert delicacies. The area is abundant with edible native plants (like prickly pear fruit), traditional heirloom crops (such as tepary beans) and local artisan products. Tucson also has many opportunities for visitors to pick their own produce or join in the fun at local festivals. Here are some of Tucson's most popular flavourful experiences.
The festivals
Citrus Jubilee at Heirloom Farmers Market is a three-day event in January that celebrates all things citrus. Lemons, oranges, grapefruits, tangelos and kumquats are all locally grown in Arizona and are known as "the jewels of the desert." This festival takes place at the weekly Heirloom Farmers Market and has attractions like cooking demos, live music and food trucks. The vendors make it easy to taste different citrus and to stock your RV's pantry.
The Ciolim Harvest at San Xavier Co-op Farm takes place in April. April is the time of year when locals gather to collect cholla cactus flower buds, a treat that tastes like asparagus (with a bite!) when cooked. The cactus's flower bud is harvested before it opens by using tongs or chopstick-like instruments (the traditional method) and giving the bud a twist. After it is removed from the plant, each bud needs to have its spines removed and be meticulously checked over again. It becomes more difficult to remove the spines after the bud is cooked. Once it's ready to eat, the bud's flavour makes up for all the hard work.
Roasted Chile Festival at Rincon Valley Farmers' Market is the place to find fresh, roasted Arizona-grown green chilies and locally grown fresh produce and fruit. The festival usually takes place in the middle of September. Artisans, chefs and businesses gather to supply festival goers with great food, a beer garden, family activities and live music. The two main varieties of chilies offered at the festival are hatch and poblano.
Sahuarita Pecan Festival at Green Valley Pecan Company in November kicks off with the Pecan Classic/Fun Run. Visitors can take part in the company's pecan harvest and enjoy live music and other festivities. The pecan pie contest also takes place during the day-long event. About 20,000 attendees make it to the festival each year, and since its beginnings in 2009, the festival has given over 3,175 kilograms (7,000 pounds) of food to local charities over the years.
The businesses
Tucson Tamale Company is a family favourite that came to be in 2008. The company now has several locations and ships its products all over the U.S., but it came from humble beginnings. Owner Todd Martin fell in love with making tamales 14 years ago and now gets to share his passion with others. Tucson Tamale has around 33 different kinds of tamales, even dessert flavours, and it uses local, GMO-free produce to produce its traditional delicacies.
Sentinel Peak Brewing Company, Tucson's only midtown brewpub, was opened in 2014 by three full-time firefighters. The brewpub offers a southwestern-style menu, and its beer garden is pet-friendly. It also offers fantastic views of the Catalina Mountains.
Santa Cruz River Farmers' Market is run by Tucson's Community Food Bank and happens every Tuesday throughout the year. Vendors supply the market with bath and body products, artisan goods, handcrafted furniture, fresh produce and baked treats.
The Presidio District Experience is a walking foodie tour that stops at different restaurants, farms and wineries in Tucson. The tour is a great way to experience the area's local food heritage and discover new flavours. It includes professional cooking demos, a background of local ingredients and an introduction to how to use these flavours in your own dishes. What a great way to take home a bit of your vacation.
If you want to pick your own farm-fresh fruits and veggies, head out to Apple Annie's Orchard & Farm or Tucson Village Farm. If you're interested in helping out on a farm to get a feel for what it takes to grow food in the desert, you can visit the online event calendars of Desert Harvesters, Bean Tree Farm and Arizona-Sonora Desert Museum to take part.
To learn more about Tucson's flavours, visit its tourism website.