Why not combine driving with driving?
The Princeton Golf Club lies at the east end of the Hope-Princeton Highway 3 at the top part of the scenic Similkameen Valley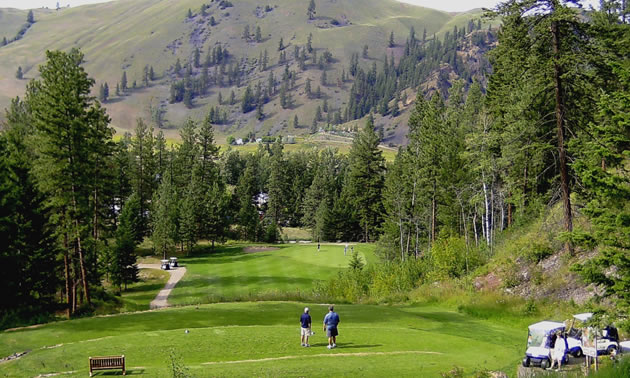 If you haven't driven the Hope-Princeton Highway, you should. And the approach from Osoyoos, an hour and 20 minutes east on Highway 3, is an equally magnificent drive. The Princeton Golf Course is a reward no matter which way you travel. It features open fairways mixed with challenging terrain. Any level golfer will find enough demand to keep the game interesting amongst the Ponderosa pines.
Toughest hole?
Pam Morphy, golf course administrator and board member said, "Hole 14 is rated second and third most difficult for men and ladies, respectively. This is our longest par 5, with a steep uphill section along with a blind shot to the green from about 120 yards out."
Morphy's advice for Hole 14: "The tee shot should reach close to the bottom of the hill to avoid having an awkward stance on the steep hill. The second shot is all uphill; staying to the right is advantageous for the final shots into the green."
Prepare for the spectacular view of Princeton's signature hole, No. 17, which is a highly elevated par 3.
Morphy's parting advice: "Take a deep breath and enjoy." Good advice now matter where the game takes you.
And if you decide to stay a few days to get to know the course better, the RV Park adjacent to the course provides full hookups.