Playing in Powell River
Powell River and nearby Lund offer endless opportunities for discovery and exploration
by Lisa Crane —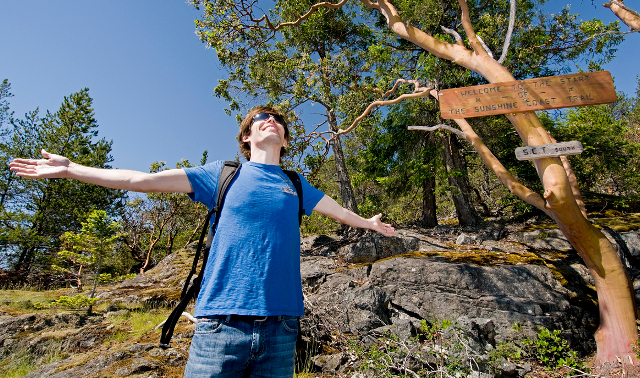 Powell River on the Sunshine Coast of British Columbia provides unforgettable recreational experiences year round. Accessible by ferry from the Lower Mainland and the lower Sunshine Coast, Powell River and the neighbouring community of Lund offer the perfect getaway.
Paul Kamon, Tourism Powell River's marketing director, said Powell River is a friendly and safe community in a beautiful coastal setting.
Powell River officially started off as an industrial centre, Kamon said, and was home to the world's largest pulp and paper mill. Traditionally, the area was part of the Sliammon First Nations' territory. When Dr. Israel Wood Powell, British Columbia's first superintendent of Indian Affairs, travelled the B.C. coast and identified a river draining into a lake, both were named after him. Kamon said that Powell played an important role in bringing British Columbia into Confederation.
Like the local museums—the Powell River Historical Museum and the Powell River Forestry Museum—the Townsite Heritage Society of Powell River offers fascinating insights into the history of the area. Self-guided or guided walking tours of the heritage buildings in Townsite are a must.
"Today, this upper Sunshine Coast community is best known as an outdoor recreation mecca with a friendly, laid-back vibe," said Kamon. "It is a perfect place to raise kids."
Hiking the Sunshine Coast Trail is a fantastic way to discover the area. Kamon said the trail offers 180 kilometres of epic views through a ribbon of old-growth forest and freshwater lakes.
There is no shortage of places to stay here. Natural grassy settings, peaceful lakes, stunning views, sandy beaches and private sites all make it hard to choose the perfect place to stay.
"The best kept secret of Powell River is the affordability and high quality of life we enjoy," said Kamon. "Many people who now live here were just visiting and decided to make it home."