Outdoor attractions in the quaint community of Battleford
This cozy Saskatchewan town invites you to come outside and play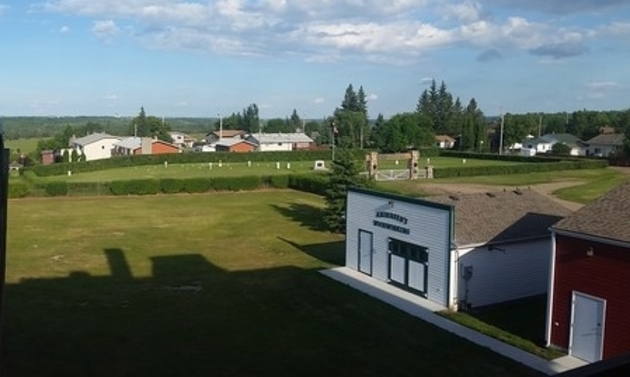 Battleford, Saskatchewan, takes the cake when it comes to outdoor recreation opportunities.
Tucked away between the North Saskatchewan and Battle rivers, this friendly town has parks and gardens on all sides. People come here to fish, picnic, hike or even cross-country ski in winter—there is no bad time of year to visit.
The Great Trail can be accessed nearby and is popular among joggers, walkers and cyclists. Formerly named the Trans Canada Trail, this massive trail links more than 800 communities and is the longest route of its kind in the world. The local portion of The Great Trail is incorporated into the Town of Battleford's trail system, which extends for more than seven kilometres (four miles) and features asphalt, grass and gravel paths.
Take a stroll or ride your bike along this pathway, and it will take you to the Battleford Flats, the Eiling Kramer Campground, Fred Light Museum or Finlayson Island. Once you reach Finlayson Island, you'll find another myriad of grassy nature trails, covering 12.5 kilometres (over seven miles) of terrain.
Another terrific outdoor area is
The Battlefords Provincial Park
. It is located 20 minutes north of Battleford and is a natural choice for swimming, fishing, camping and boating (you can rent a boat if you don't have your own). There is also an 18-hole golf course and convention centre on site for those interested in hitting the greens, and the kids will love going out for a round of minigolf or hunting for some geocaches. There are beaches, washrooms, ice, drinking water, firepits and showers available for your convenience. You can camp at this park between the May long weekend and September 23, and it is pet-friendly. To top it all off, campers can acquire free firewood, and there are laundry facilities and stores close by in case you need to pick up supplies.
Within town limits, you can find ball diamonds, a paddling pool and arena. You can also camp at the
Eiling Kramer Campground
, which is open May through September and located between the Fred Light Museum and the Fort Battleford National Historic Site. This facility offers 74 campsites, 36 of them with power hook-ups.