Putting an experience to your food
Innisfail Growers is a group of five farm families who's goal is to put a face and experience to your food.
by Karen Kornelsen —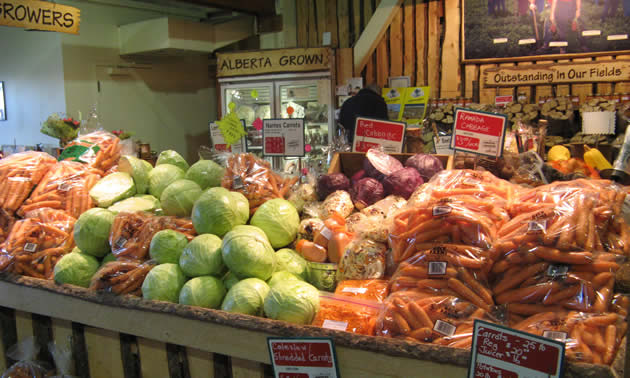 There's a group of farmers in Innisfail, Alberta, near Sylvan Lake, that are doing something extraordinary. The five different farms who make up Innisfail Growers are working together and cooperatively selling their food. Each farm has its unique specialties but they all come together to connect locally grown food to consumers.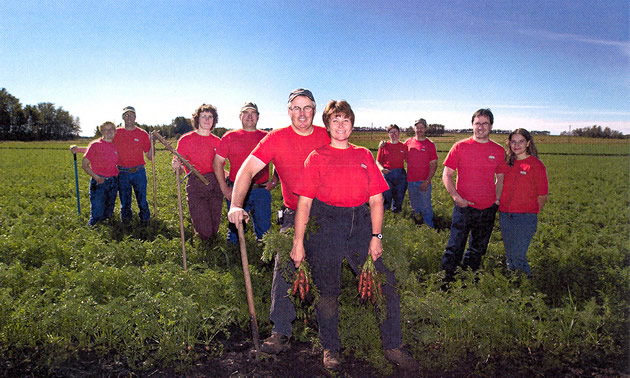 Back in 1986, Elna Edgar and her husband, Doug, started thinking about growing something to diversify their grain farm in Innisfail, near Sylvan Lake, Alberta. They wanted to grow something that could go directly to the consumer. Their neighbours, Shelley and Rod Bradshaw, were thinking the exact same thing. So Elna chose asparagus, a perennial, while Shelley chose carrots, an annual. When Shelley headed out to her local farmers market that very summer, even though her carrots were incredibly delicious, she decided she needed more than just carrots on her table to attract more people.
Shelley then approached the neighbourhood children, a couple of them being Elna's high school-aged daughters and asked them if they wanted to start growing peas for her. Elna's daughters did so to earn some extra money. As the years went by and the kids grew up, Elna decided she wanted to do more than asparagus as well. Shelley called a meeting and decided to try cooperatively marketing their food. In 1993, Innisfail Growers was born.
"The idea was we would all do our own things on our own farms but sell it together," said Edgar. "We really stress quality. We are not going to be the cheapest but we are going to be the best. That's the theory we've always used. We provide the very best quality products and the customer is always right. If there's an issue, we'll deal with it and stand behind our products. We also do events on our farms so customers can come out and meet the farmer and have that farm experience as well. Today, we have three out of the five original farm families. I think that's absolutely amazing."
On Edgar Farms alone, they have 10 hectares (25 acres) of market garden peas, 2 hectares (five acres) of beans and the largest asparagus field in Alberta at about 20 hectares (50 acres). They also have sugar snap snow peas and about a half hectare (one acre) of rhubarb. It's a lot of work. And so are the 20 different farmers markets they attend throughout the summer plus the Calgary Farmers' Market, where they sell their food four days a week, all year round.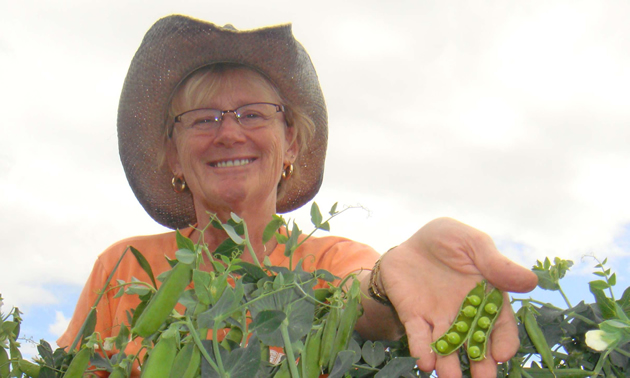 "Here in Alberta, our growing season is relatively short, and we can't grow any fresh produce during the winter," said Elna. "So our farm does home-raised grass-fed hormone- and antibiotic-free beef, award-winning homemade pies, and we do thousands of jars of preserves every year. We do everything we can to get our homegrown products into jars so we can sell them 12 months out of the year."
For instance, Elna's rhubarb is picked for six weeks in the spring so they have it fresh at that time and then they make relishes, jams, rhubarb citrus ginger marmalades and pies to sell the rest of the year. All Elna's pies are homemade. The pastry is rolled by hand to give it that homemade taste. She believes that's the secret to her winning the Calgary Farmers' Market pie contest two years in a row.
To sell produce at all these farmers markets takes a lot of work and a lot of staff. Innisfail Growers likes to hire their families first. Between the children and grandchildren, Elna says that's almost always possible. Then they like to hire people who work on their farms so they are knowledgeable about the product. They even have a staff manual and training at each farm so everyone who works their booths at the farmers markets is familiar with all the different products grown at each of the five farms.
"We all have our own opinions and our own strong points," said Elna. "Not everyone's opinion is always the same but it's so wonderful for all our farms to recognize that and work together towards our motto, 'What's good for the group is good for each of us.' "
Connecting people to locally grown food is what Innisfail Growers strives to do. For many good reasons.
"The food tastes better, it's healthier, it hasn't travelled, it's not factory-farmed," she said. "In an ideal world, we would all have our own garden in our own backyard but in reality, that's not possible for most people. What they can do is take weekly trips to the farmers market. Local and fresh food is so much better. Better yet, get to know the farmer who's growing your food."
For those RVers travelling through Alberta near Sylvan Lake and Innisfail, meet the farmers that make up Innisfail Growers. They hold an annual customer appreciation day and this year it's on July 26 from 10 a.m. to 4 p.m. They all have events on their own farms as well. Edgar Farms has an asparagus festival on May 31, June 7 and June 14. Both Edgar Farms and The Jungle Farm have stores as well that are open from May to September.
"Teach your children that food doesn't come from a grocery store. Milk comes from a cow, not from a store," said Elna. "Put a face to your food, put an experience to your food."
Check out www.innisfailgrowers.com for more information on all five farms, events and so much more.