Top things to see and do in Spokane
Keep your family thoroughly entertained during your stay in this lively city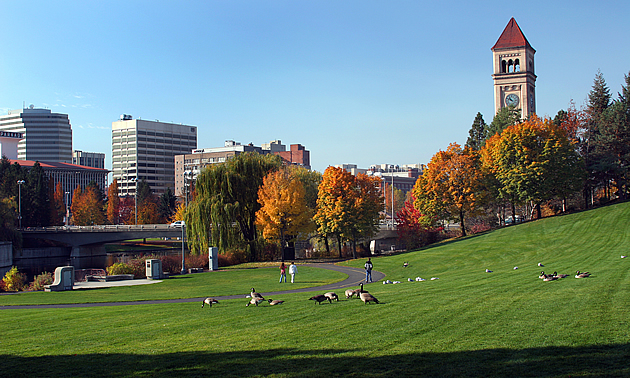 Spokane has something for everyone, no matter what your age or activity level. Here are some of the top choices that you and your family can check out while in the area:
1. Enjoy riverfront revelry
At the lovely Riverfront Park, you can bring the kids and have a fantastic time for little or no cost. You can find a giant Radio Flyer wagon, where children can actually get inside the wagon bed and slide down the handle. Or, for a cost of $2 ($1 if you bring a group of 15 or more), you can ride a 100-year-old carousel. Take an exhilarating gondola ride on the Spokane Falls SkyRide for only $7.25, and visit the "garbage-eating goat," a functional art piece sculpted by a Catholic nun for Expo '74. This environmentally friendly steel sculpture will "eat" your trash for you.
This is just the beginning—there are many other attractions available at Riverfront Park, including the Ice Palace, tour train, an Imax theatre, a range of carnival rides, eateries and year-round games to play.
2. Discover country life
Just 15 minutes north of downtown Spokane is the charming community of Green Bluff. This area is home to local wineries and more than 30 growers who boast seasonal crops that visitors can pick themselves. Take part in the Cherry Pickers Trot and the Pit Spit in July, or watch Punkin' Chunkin' in the fall, where pumpkins are shot from a giant air gun to the amusement of spectators.
3. Get excited to see snow
Spokane residents enjoy the winter season, and it's no wonder why. There are five ski resorts in the area that offer skiing (downhill and cross-country), snowboarding and snowshoeing. Schweitzer Mountain, Mount Spokane, 49° North, Silver Mountain and Lookout Pass are all terrific options. Even if you are not an athletic type, you will still enjoy going to one of the lodges for a cup of hot cocoa and taking in the wonderful winter scenery.
4. Go from downtown, to upstream
From any given point in the city you are only minutes away from Class-3 rapids on the Spokane River. Local outfitters are very accommodating and will take you on a heart-pounding river-rafting trip—often without the need for an advance reservation. Parts of the river are also ideal for canoeing, fishing and kayaking as well.
5. Park the RV and hop on your bike
Centennial Trail is a paved, 59-kilometre path running from the Idaho border, through downtown Spokane and all the way to Riverside State Park. This is a prime place for mountain bikers and other cyclists to experience the beauty of the area.