The soul of Sparwood
Despite Sparwood's small size, the town is full of life, offering lots of activities and places for locals and visitors to gather
by Lisa Crane —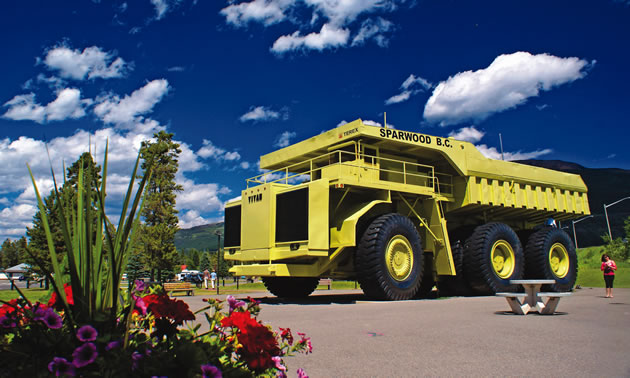 Sparwood, which lies in the heart of the Elk Valley, is a small town with about 4,200 people. The community certainly isn't lacking in character and things to do, though. It is well known, of course, for the big green truck—a giant 1974 Terex Titan built by General Motors of Canada that you can see from the highway.
Shari Nielsen is a longtime Sparwood resident and the office assistant at the Sparwood and District Chamber of Commerce and visitors centre. She said that no one is in a hurry to get anywhere in this friendly town.
"The town has a centennial square, and most of the gatherings that happen are usually at planned events," said Nielsen. "Hockey is a huge thing, so there is constant traffic in and out of our recreation centre."
Nielsen said the recreation centre is probably the one single hub of the town.
"It offers swimming with a free session every Friday, fitness classes and child minding," said Nielsen.
Mountain Shadows, a full-service campground, is situated a few minutes from town in a treed area. The challenging nine-hole golf course is nearby.
"People are into fitness here; there is not much hustle and bustle," said Nielsen. "It is pretty laid-back, and fishing and camping are popular."
She said amenities that aren't available in Sparwood are not far away in Fernie, 15 minutes away.
"(Sparwood's visitors centre is) located right beside the big green truck, which draws a lot of people into Sparwood too," said Nielsen. "You can pick up all kinds of trail maps and information here."
The town's Coal Miner Days, held in June, is a fun event for all.