Socorro's treasures
Socorro, New Mexico, offers galleries, museums, a historic church and a fascinating natural environment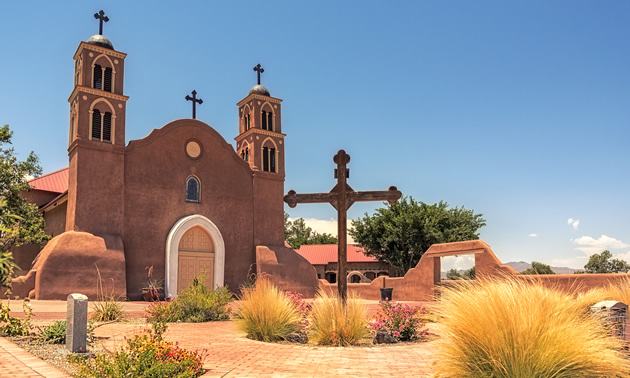 The wineries in the vicinity of Socorro, New Mexico, are just one good reason to visit the area. The history, geology, arts and natural environment around Socorro provide many opportunities for visitors to educate themselves and enjoy the process.
Here are a few places to begin with.
San Miguel Mission
The original church on the site of the San Miguel Mission in Socorro was built between 1615 and 1626 under the direction of Spanish missionaries. It has been called the Church of San Miguel since about 1800. Some of its original adobe walls and carved beams still exist today. An additional wing was added to the church in 1853, increasing its seating capacity to about 400.
The church's history tells us that when the church and village were abandoned around 1680 because of threats from hostile forces, a solid silver communion rail and other sacred vessels were buried to save them from looters. This buried treasure has never been found. In 2016 the San Miguel Mission was listed in the National Register of Historic Places.
Alamo Gallery and Gifts
Socorro County Arts (SCA) promotes the visual, performing and literary arts, as well as creative crafts in the vicinity of Socorro. SCA manages Alamo Gallery and Gifts, where more than 30 artists provide examples of their work. Paintings, carvings and jewelry, along with Native American beadwork and weaving, are exhibited at the gallery. Local musicians and writers also find an opportunity to showcase their creativity there.
A free monthly art workshop and Spring Open House are offered to the public through the partnered sponsorship of SCA and the City of Socorro.
Bosque Del Apache National Wildlife Refuge
Located 22 minutes south of Socorro, New Mexico, in the mid-Rio Grande valley, the Bosque del Apache National Wildlife Refuge is a year-round feeding and breeding ground for hundreds of species of migratory birds. From mid-November to late January, the evening arrival and en masse dawn departure of thousands of snow geese and sandhill cranes is an awe-inspiring event that happens every day.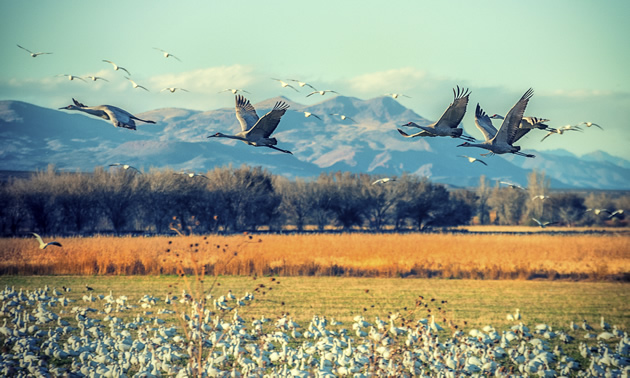 Great horned owls, Western screech owls, Big Brown bats, pelicans, ducks of all types and a variety of butterflies are just a few of the flying species that visit the refuge.
San Lorenzo Canyon
Lying 47 minutes northwest of Socorro, the San Lorenzo Canyon is an interesting area providing moderately challenging exploration opportunities. Hikers are free to wander at will, though there are trails for ATVs.
The time and energy you spend in the canyon will depend on the route you choose, the distance you travel and whether you're hiking or driving an ATV. Dramatic rock formations as well as arches, slot canyons, shelter caves and unusual rock inclusions make the views and the details worthy of close attention.
The canyon is open to visitors all year round. It has no amenities other than a parking area, so you must bring your own water, and carry out whatever you take in.
New Mexico Bureau of Geology & Mineral Resources Mineral Museum
Many people like to pick up the odd rock or pebble as they wander or hike, and that casual activity can elevate to a passion and a full-time occupation for some. The fruits of geological exploration—professional rockhounding—in New Mexico are on display at the New Mexico Bureau of Geology & Mineral Resources Mineral Museum, on the campus of the New Mexico Institute of Mining & Technology in Socorro.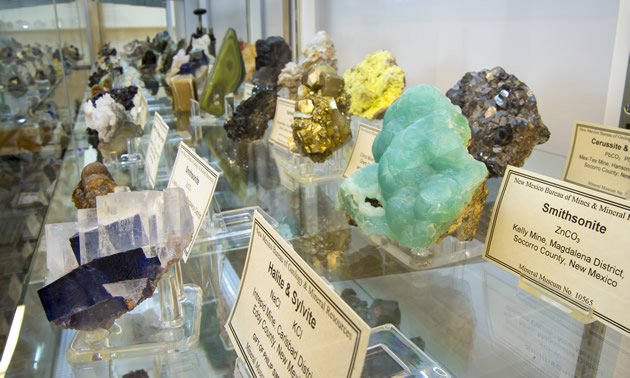 On display at the mineral museum are about 5,000 specimens of minerals from New Mexico and around the world. The display in the New Acquisitions showcase changes as new donations arrive, and the dynamic Guest Display is refreshed with new items every year.
The bureau's bookstore carries geoscience books, maps, jewelry and fun science activities for children. The museum's comprehensive Rockhounding Guide to New Mexico is available online.