America's original wine country
We look into the heart of the original wine country in the United States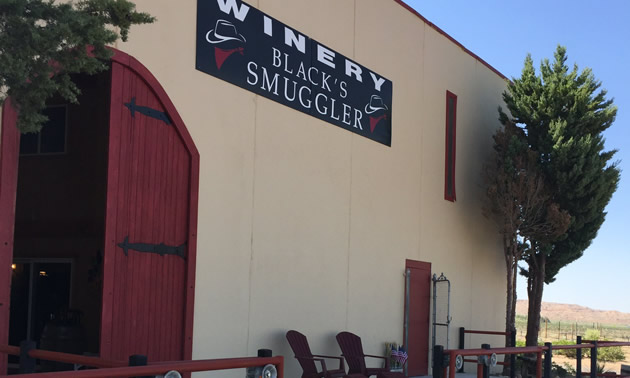 In the vicinity of Socorro, in central New Mexico, travellers staying at the RV parks along Interstate 25 can visit several thriving vineyards and wineries. Three of them, Black's Smuggler Winery, Jaramillo Vineyards and Shattuck Vineyard lie in the central Rio Grande Valley, within an hour's drive of Socorro. All three offer visitors a warm welcome, with wine tasting and tours available.
Shattuck Vineyard
Shattuck Vineyard, owned by Brad Shattuck and Virginia Snyder, is the southernmost of the three. It was licensed by the federal and state governments in 2012 and opened its tasting room in 2013.
The vineyard property covers almost six hectares (16 acres), with just 0.6 hectares (1.5 acres) under cultivation and producing grapes. An ancient, free-flowing artesian well provides water for the vines. As the vineyard is small, the partners make the grape harvests a social event, inviting family and friends to participate.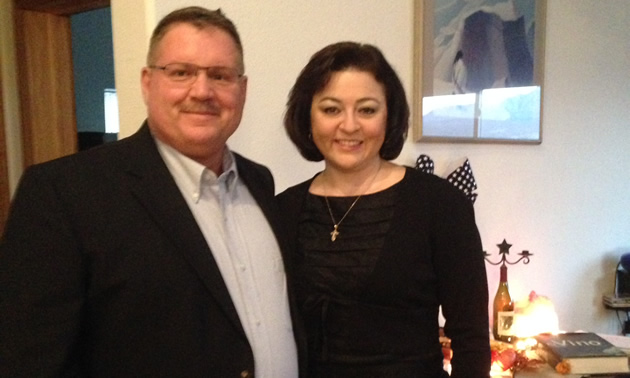 "We're still fairly small," Shattuck said, "still open only on weekends for tasting and by appointment during the week. We're basically run by myself and my dad, who lives in Truth or Consequences and is our resident agent—I still carry my full-time job during the week."
A popular offering from Shattuck Winery is its Zinfandel, called "Consequence of Zin."
Black's Smuggler Winery
An hour north of Shattuck along Interstate 25 is Black's Smuggler Winery, owned by Tony and Mary Ann Black and licensed in late 2013. At present the vineyard covers about 1.6 hectares (four acres), for an estimated production of about 10 tons of grapes. With the purchase of additional New Mexico grapes, the winery produced about 700 cases of wine in 2017.
Black's Smuggler produces 14 or so varieties of red and white wine, all in the dry-to-semi-sweet range. Locally grown pecans are often provided with the wines for tasting. From the tasting room, which is open Thursday through Sunday year-round, guests can watch whatever is going on in the production facility while enjoying their sampling.
"Usually we're busy harvesting through the month of September," said Tony. "Now (in mid-October) we're moving the wine into barrels, racking wine and filtering wine and getting it ready for bottling. Come February, we usually do our pruning in the vineyard, and in March to April we bottle our whites. Those are the major events. All summer long we're in the vineyards."
Weddings, fairs and other gatherings of up to 100 people can be accommodated at Black's Smuggler.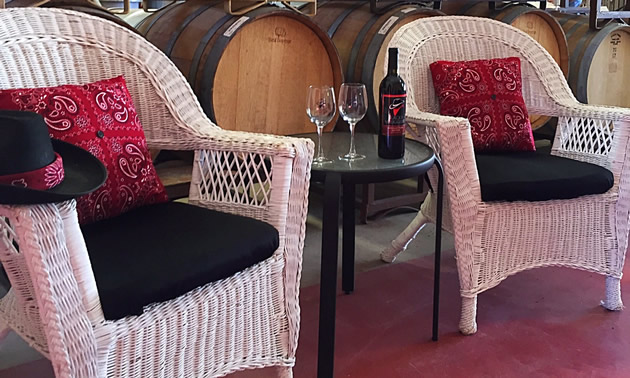 Jaramillo Vineyards
Jaramillo Vineyards lies about 20 minutes north of Black's. Barb Jaramillo, co-owner with her husband, Robert, talked about the history of New Mexican wines.
"New Mexico is the oldest wine-producing area in the United States," she said. "This is where it all started, when the priests came up from Mexico in the 1600s and needed communion wine. The tariffs on importing wine from Spain were so high that the priests decided to grow their own grapes to make wine for the church.
"Our climate here is very similar to Spain's—we have a lot of microclimates, so what you can produce depends on where you're at."
Prohibition, from 1920 to 1933, shut down many wineries throughout the U.S.
Jaramillo produced its first vintage in 2013 and already has been awarded numerous medals in wine competitions. Those include a double gold for its "Native Sun" label at the 2016 San Francisco Chronicle Wine Competition, where more than 7,000 American wineries enter their products.
"We've also gotten silver and bronze medals from the New York Finger Lakes International Contest," Jaramillo said. "We're certainly holding our own."
Jaramillo is a 100 per cent solar winery where only environmentally safe products are applied to its fields. It is currently open to the public by appointment on weekends and will be opening a tasting room in March 2018 in the historic Belen Hotel on Becker Street in nearby Belen.
"My husband is the expert when it comes to winemaking," Jaramillo said, "but I've got to like it before we put it in the bottle."