Stay on the safe side with a good backup plan
An ounce of prevention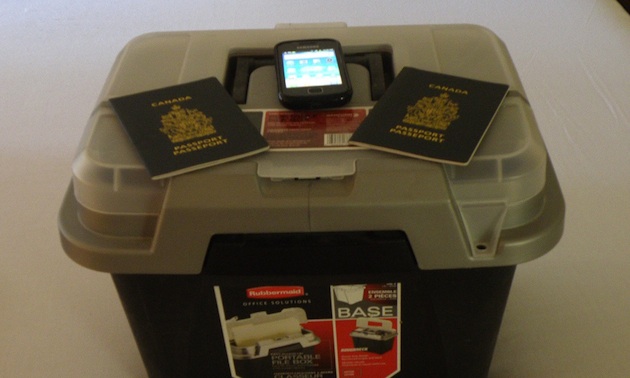 Question: What can RVers have in case they lose their passports, smart phones, wallets, etc? Do you have backup plans?
Answer: Prevention is 80 per cent of the cure. If it doesn't happen, you don't have to worry about it, right? Unfortunately, that doesn't always work out—but here is some information and hints some on backup strategies.
Passports
Replacing your passport can be a daunting task. Once a passport has been reported lost or stolen, it is no longer valid and cannot be used for travel. There's more complete information at Passport Canada.
If your passport is lost or stolen, a replacement passport may be authorized if all requirements are met:
A completed application form
Two identical passport photos, one of which is signed by the guarantor;
An accepted proof of Canadian citizenship
A document to support your identity;
The appropriate fee
A complete declaration concerning a lost, stolen, inaccessible, damaged or found Canadian travel document
Outside Canada: Report the loss or theft to the nearest Government of Canada office abroad and to the local police.
In Canada or the United States: Request a replacement passport in person at any Passport Canada office or submit an application by mail or courier.
We carry our passports with us most of the time. In the southern part of Arizona there are Border Patrol checkstops that check for undocumented immigrants. They require proof of citizenship. Passports are your best identification.
Smartphone
If you lose your smartphone it is very unlikely that you will get it back. Also, it is highly likely that the finder will attempt to access your personal information, emails and social media.
There are a few backup strategies you might consider:
Ensure that the phone automatically locks when not in use.
Protect your smartphone with a password or passcode
Several apps have been developed for the sole purpose of finding lost cell phones:
For iPhone users there is Find My iPhone
For Android users, there is Lookout that allows you to track your phone online via GPS and lock and wipe your phone remotely
WaveSecure tracks location and SIM card, backup and restore, and lock and wipe
SeekDroid offers a slew of features for tracking down a lost or stolen Android phone
For Windows Phone 7 Find My Phone
On the safe side
We invested in a fireproof file box that we carry with us. What is in the box? We have copies of:
Insurance policies (vehicle and medical)
Receipts for high-priced items we bought in Canada
Receipts for items we will declare at the border
Copies of the identifying page of our passports
Cash (or travellers' cheques)
Other relevant information like credit card numbers and information to confirm our residency
Travel no-nos
Unattended purse in the grocery cart. It never ceases to astonish me that some people leave their purses unattended in the grocery cart.
All the cards we tend to carry in our wallets. Do we really need them all with us all the time? Leave what you won't need at home.
Wallet in the back pocket. Not only is it better for your back to carry your wallet in your front pocket, but it is also more secure. Pickpockets would have a difficult time picking your front pocket.
Travel safe and secure!