An autumn trip to Yellowstone National Park
Lynne and Fred explore the famous park that sits on an underground volcano.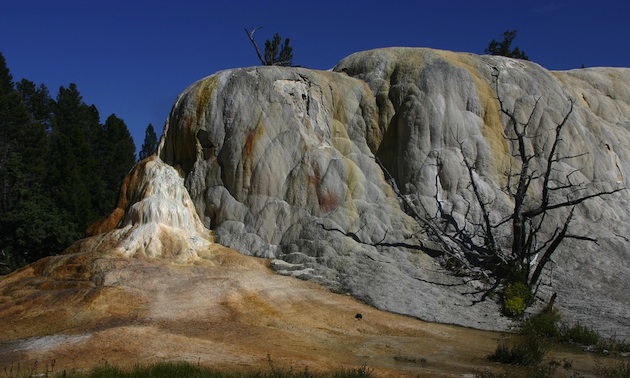 Yellowstone National Park is located primarily in Wyoming, although it also extends into Montana and Idaho. It is 63 miles (101 kilometres) north to south and 54 miles (87 kilometres) west to east. There are 290 waterfalls of at least 15 feet.
Yellowstone has some of the world's most spectacular unique scenery. It offers unparalleled fly fishing, trails of every level of difficulty, and is one of the world's principal wildlife preserves.
First impressions? People! People! People! And we were told that this was not nearly as crowded as it is in the summer. Holy cow!
Our first venture following the crowds was the Great Fountain Spring and the bison that posed for us not far from there.
Then we wandered over to snap a photo of an elk lazing in the bog and viewed our first canyon and the falls at Firehole Canyon.
We gathered our information and mapped out our day trip. Little did we know that autumn is the season of road work. Along with the multitude of fellow sightseers, we had a long but spectacular day.
Geological characteristics
Yellowstone is built over a geological hydrothermal phenomenon characterized by geysers, fumaroles, hot springs and mudpots. Yellowstone Lake sits over the Yellowstone Caldera, a large, active supervolcano that lies about three to eight miles below the surface. Surface water from rain and snow seeps down to a layer of molten rock or magma. The resulting hot water and steam come to the surface as hot springs, fumaroles and geysers. Comprehending the geological foundations for these stupendous formations is a lifetime study.
Steamboat Geyser is the world's tallest currently active geyser, but does not erupt on a predictable schedule. We were lucky enough to be there when it erupted.
Bacteria and algae create the streaks of color on Orange Spring Mound. It is noticeably different from many of the other terrace formations nearby. Its large, mounded shape is the result of very slow water flow and mineral deposition.
Geysers originate as hot springs, but because of constrictions water is prevented from freely rising to the surface. Thus the eruptions: to clear the channels and allow the heat to dissipate.
Old Faithful is not the biggest or even the most predictable geyser in Yellowstone, but the eruption happens about every 50 to 120 minutes, making it a geothermal showcase of Yellowstone.
Some definitions
A hot spring is produced by the emergence of geothermally heated groundwater from the Earth's crust.
Fumaroles or steam vents are plumes of steam that come through the rocks to release pressure from the underground activity.
Mudpots are bubbling, muddy clay spots that are formed through the action of micro-organisms converting hydrosulphide into sulphuric acid.