The warm heart of Smithers
Recreation, culture and nature's beauty are features of life in Smithers, B.C., and the community's friendliness is a heart-warming bonus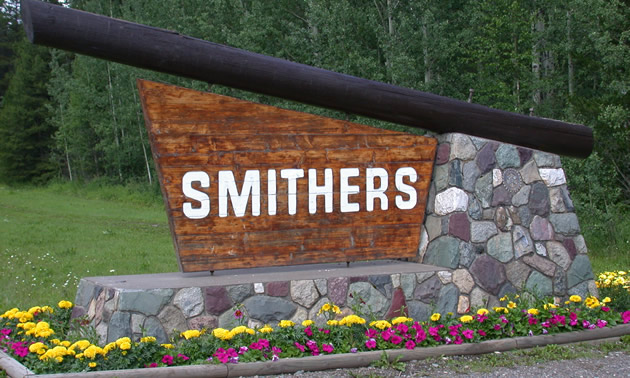 Smithers, B.C., became the first incorporated village in B.C. in 1921, and became a town in 1967. It was named after Sir Alfred Smithers, chairman of the board of the Grand Trunk Pacific Railway. The community of 5,400 is situated on the Yellowhead Highway, Highway 16, in northwestern B.C., at the halfway point between Prince George and Prince Rupert.
Natural beauty, recreation and warmth
The year-round recreational opportunities in this Bulkley Valley community are numerous and high-calibre, and the alpine terrain is varied and beautiful in all seasons. Wildlife is abundant—moose, mountain goats and bears are frequently seen, as are otters and bald eagles—and the people are friendly. These characteristics make Smithers an exceptional vacation destination for the nature lover, but there's more.
The Tourism Smithers website has an extensive collection of letters from visitors who have been surprised and warmed by the thoughtfulness, generosity and kindness they have experienced in Smithers. The community has an attitude of genuine caring that makes visitors love being here.
Alison Watson, town planner for Smithers, has lived here for eight years. Watson found the community to be welcoming and inclusive, and in short order she was as busy with activities and groups in Smithers as she had been in the large city of Halifax, Nova Scotia.
"I like the diversity in the amenities we have here," Watson said. "It's fun to have so many options that it's hard to decide what to do. (My husband and I) love our winter sports and we love to go biking and fishing in summer—it's a paradise all year round."
Watson said that visitors often prolong their stays because they keep finding more places to see and activities to enjoy. In addition to an abundance of outdoor activities, Smithers has a very active arts community with a strong performing arts element that frequently produces concerts and other cultural events.
A shared vision for a healthy future
The community as a whole is interested in staying fit and healthy, and has built a multi-use trail of about 10 kilometres around the town's perimeter. There's also a push to increase the cycling friendliness of downtown, where bike racks have been installed for public use and a designated bike route is being trialled along Third Avenue.
"We're doing some outreach work to promote cycling safety and driver education," Watson said. "Visitors can park their RVs and get on their bikes to explore the town. Smithers was developed according to the railway's grid plan, giving you an easy and predictable way to get around."
Watson said that there's co-operation within the business community and service organizations to continue to build on the the positive aspects of life in Smithers. People are reinvesting in the community, growing their businesses and looking to the future.