Looking through the lens at nature's doorstep
Smithers is a very photogenic area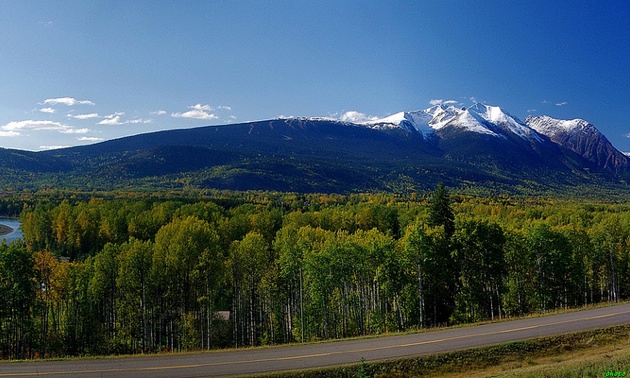 Aptly known as a town for all seasons, Smithers, B.C., has something for everyone. Surrounded by mountains, forests, rivers and lakes, this diverse community offers endless recreational activities, art, music and culture. Located in northwest B.C., halfway between Prince George and Prince Rupert, Smithers is nestled in the Bulkley Valley and serves as the hub for the neighbouring communities of Houston, Telkwa and Moricetown.
Photographer Jim Thorne lives in Kitimat, about three hours from Smithers, and has snapped many pictures throughout the Bulkley Valley when he travels south several times a year.
"It is a very photogenic area," Thorne said. "It's very pastoral, with farms and ranch lands in the foreground and a backdrop of mountains."
Off the beaten path
A drive along the Telkwa High Road provides exceptional views from every angle. This partially paved road runs from Telkwa to Moricetown adjacent to Highway 16 on the north side of the Bulkley River, bypassing Smithers.
"There are so many places to get a great shot of a pasture and barn with the Babine Mountains in the background," said Thorne. "It's not a long trip, maybe a couple of hours there and back, and it's totally safe to drive an RV on it. Because you're taking shots of mountains, the best time is early morning or later in the day to avoid major shadows."
To access the Telkwa High Road from Smithers, head southeast on Highway 16 and turn left onto Babine Lake Road (6.3 kilometres) then turn left onto Telkwa High Road (10 kilometres).
Reflections on liquid glass
Just north of Smithers sits Kathlyn Lake, a small recreational lake with a grassy field and sandy beach. Fishing, canoeing and swimming are popular in the summer, as is skating during the winter.
"Kathlyn Lake is a great photo op," Thorne said. "It looks good any time of the year, especially in the summer. The most beautiful shot to get is of the reflection of Hudson Bay Mountain on the water. If you are hoping to get the best lighting and detail, then be sure to do it before 10 a.m. or in the evening."
To get to Kathlyn Lake from Smithers, take Highway 16 heading west, turn left onto Lake Kathlyn Road (1.2 kilometres) and continue onto Beach Road.
The power and beauty of nature
Northern B.C. is home to a number of First Nations communities including Moricetown, a Wet'suwet'en village west of Smithers along the Bulkley River. Moricetown Canyon provides an amazing view of the majestic rapids of this mighty river as well as an opportunity to watch the First Nations people fish using traditional methods.
"The natural setting of the Bulkley River at Moricetown Canyon is lovely," said Thorne. "The canyon area is best photographed in the evening or early in the morning for shadows. During the day, under the full sun, the pictures aren't nearly as good."
Take Highway 16 heading west out of Smithers to Moricetown Canyon (30 kilometres).
Thorne pointed out that on a recent trip to Europe he noticed a stark difference between the mountains here and there.
"We are lucky here in northern B.C.," he said. "Our mountains look unspoiled and less populated than what I saw overseas. It looks so much more natural in comparison. One plus about taking pictures up here, we have great sunsets. The lake and mountain combination will always give you a good sunset photo."