Saskatoon inspires
Explore, eat and be entertained in bustling, beautiful Saskatoon, Saskatchewan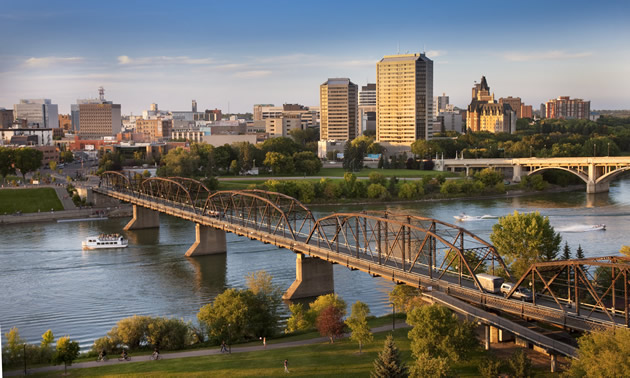 Saskatoon, Saskatchewan, the province's largest city, is located along the grassy banks of the South Saskatchewan River in the south-central portion of the province. At just over a quarter of a million people, Saskatoon is home to the University of Saskatchewan and is a commercial, industrial and entertainment hub for the outlying farming communities. As such, it has a lot to offer the visitor.
Top 3 things to do in Saskatoon:
Explore
There are so many options for walking tours in and around Saskatoon that it may be difficult to decide where to go. For a tour unique to the city, the University of Saskatchewan campus is a wonderful place to enjoy a peaceful summer ramble among elegant collegiate gothic-style buildings. Open spaces, secluded nooks, gardens and atriums are features of the campus. Visit an observatory where you can to scan the night sky and perhaps adopt a star. Other attractions include a sports stadium, a theatre and a 19th-century schoolhouse. The campus is a monument to limitless possibility.
Eat
A summer with back-to-back—and sometimes overlapping—festivals is a time to indulge your palate. Along with delicious summer standards like barbecued ribs, the festivals offer ethnic delicacies in abundance, including authentic Ukrainian, Japanese, Thai, Indian and Jamaican cuisines, among others. Well-known local treats include luscious saskatoon berry pie. Saskatoon also claims to have the most restaurants per capita of any city in Canada, offering a smorgasbord of edible choices, so loosen your belt and enjoy.
Be entertained
Performing arts are a summer staple in Saskatoon. The Fringe Theatre Festival, Folk Fest and the Shakespeare Festival, as well as a number of ethnic festivals, are some of the many annual events that offer entertainment and opportunities to participate. For an exciting lineup of performances and sporting events for 2015, check the calendar of events at SaskTel Centre.