Best couples' getaways in and around San Diego
RVing couples will find lots to explore near San Diego, California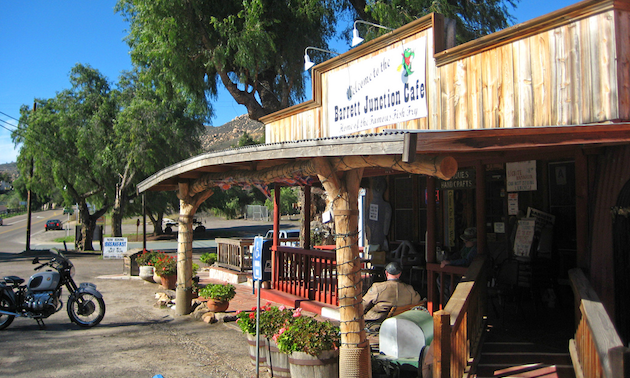 Historic mining town of Julian, California
About an hour east of San Diego, the historic mountain hideaway of Julian offers a quaint setting for a couples' day trip. The small town is set against the backdrop of countless apple orchards and the Cuyamaca Mountains—and Cuyamaca Lake is close by for fishing or boating.
Once known for gold mining, Julian boasts a collection of gold mine sites in and around the town that are educational stops where one can learn about the mid-19th century rush for precious metals.
Following the short-lived gold rush, the early pioneers of Julian stayed to farm the rich land and found that the mountain climate and its four distinct seasons, unlike San Diego's coastal communities, was well suited for growing crisp, sweet apples. Today, the town is famous for its locally produced apple pies. For a sample, stop at either the Julian Pie Factory or Mom's Pie House, both located on Main Street.
Only a few miles north of Julian, the Vulcan Mountain Trail meanders through the Volcan Mountain Wilderness Preserve. Peaceful, free and open to the public, the easy, 3.6-mile trail is ideal for a hike on a spring, fall or sunny winter day and the perfect setting for a scenic picnic of sandwiches and famous Julian pie.
Temecula Valley wine country
Situated one hour north of San Diego on Interstate 15, the Temecula Valley is home to more than 30 wineries, some atop hills with sweeping views of the valley and others set off winding dirt roads. Throughout this fine and varied varietal grape-growing region almost all of the wineries—from large resorts to small family-owned estates—offer wine tastings and tours.
Located 50 miles north of San Diego, the South Coast Winery recently won the Golden State Winery award as the best winery in California.
Only 25 miles north of San Diego in Rancho Bernardo, the 120-year-old Bernardo Winery pairs its popular red and white wines with fine food. For an indulgent afternoon, sample the Chardonnay, Sauvignon Blanc, white Riesling, Syrah, Petit Sirah, Pinotage, Cabernet Sauvignon, Merlot, port, sherry, or muscatel along with homemade olive oil and pasta, then peruse the items in a dozen Winery Village shops on the grounds.
Anza-Borrego Desert State Park
The 600,000-acre Anza-Borrego Desert State Park is the main draw in Borrego Springs, "California's secret desert." With 500 miles of dirt roads, 12 wilderness areas and many miles of hiking trails, it is the largest state park in California and one of the richest living museums in the entire country. In early springtime the dry, rugged desert is transformed by winter rains to produce a kaleidoscope of colourful wildflowers, palm groves and cacti. Wildlife also flourishes, and visitors to the area may have the chance to see iguanas, chuckwallas, red diamond rattlesnakes, roadrunners, golden eagles, migrating Swainson's hawks, fox kits, mule deer or bighorn sheep, "borrego" in Spanish, that the park is named for. Only an hour and a half east of San Diego, these desert dunes are anything but dry for hikers and explorers.
Historic route of Old Highway 94
Known as San Diego's very own Route 66, Old Highway 94 is a tree-lined, winding mountain road that runs 50 miles from picturesque Rancho San Diego to the backcountry town of Boulevard and draws drivers for its interesting east country history and present-day backroad charm.
Originally the main route between San Diego and Yuma, Arizona, the highway lost its status as the main pathway to the west in the 1920s when what is now Old Highway 80 was built to meet the demands of increasing commercial and cross-country traffic.
Along the scenic rural landscape you will find a number of surprisingly beautiful roadside stops and treasures, such as the Barrett Junction Café and Mercantile, under an hour's drive east of San Diego. Opened in 1946, the structures of the café still stand clustered under a Quonset hut and the shade of pepper trees—the original store (now closed), a gift shop and antique store, and a small dining room that connects to a larger saloon and dining hall. Family-owned and operated until 1980, the café remains a favourite with local residents and visitors alike. A family-style fish dinner served with all the fixings is its long-standing signature dish.
For a fitting stop to top off your Highway 94 road trip, continue approximately 20 miles east of Barrett Junction to the Motor Transport Museum in Campo, home to more than 200 antique vehicles and an eclectic collection of photos and memorabilia related to automotive pioneers.
Rancho la Puerta
An hour's drive southeast of San Diego in Tecate, Baja, Mexico, Rancho la Puerta fitness spa is the oldest and one of the most esteemed eco health resorts and destination spas in North America. The spa has been in operation since 1940 and has welcomed guests such as author Aldous Huxley, actress Kim Novak and actor Burt Lancaster.
Situated in the mountains between the sea and the desert on 3,000 acres, Rancho la Puerta's world-class landscaped grounds are scented with eucalyptus and rosemary. Its organic farm ensures that the on-site dining room stays well stocked with healthy fare and that guests' energy levels stay high enough to take in the extensive catalogue of mental and physical health and wellness activities.
Professionally trained staff lead cardio, dance, Pilates, tennis, water aerobics, yoga, tai chi and hiking activities and offer amenities such as massage, hydrotherapy, herbal facials and body wrap treatments. There is also a hot tub, steam rooms and saunas. "Inner self" classes include meditation and chanting as well as evening lectures and presentations. For a full experience, the spa recommends a weeklong stay in one of its 84 Mexican colonial casitas. Visitors can either drive to the ranch themselves or take one of the chartered buses that make trips from San Diego across the Mexican border and directly to the grounds.