The cheese end of the world
The Cheese Bar perfect for foodies searching for a unique experience
by Lisa Crane —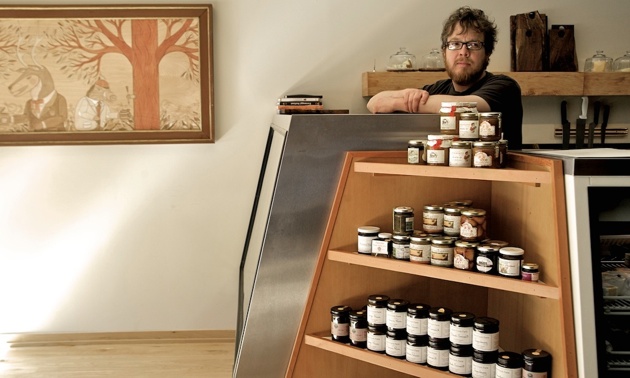 Steve Jones is the owner of the Cheese Bar—a three-in-one gourmet stop in Portland. The shop, perfect for foodies searching for a unique experience, offers a cheese counter, beer and wine bar and an artisan deli. Jones is obviously excited about his business, proud and most of all extremely passionate.
He describes the Cheese Bar as a full-service cheese counter dropped in the middle of a European tavern.
"We have about 200 cheeses at any given time, about 60 beers and the same number of wines," said Jones.
About Jones
He studied arts and learned how to cook to pay the bills and then cooked professionally for years, he said, and just fell into retail food about 20 years ago.
"I fell in love with the cheese end of the world," said Jones, "and I have done just about everything you can imagine, selling cheese."
"Our main focus is to work with the smallest producers we can, all over the world," he said. "One of our suppliers has only six cows."
Jones flies to Europe every couple of years, attending festivals and visiting cheese.
He said that the Cheese Bar is the Navy SEAL of cheese—the first one on the beach—so he likes to work with the "teeny" guy who is too small for anyone bigger to work with.
"Hopefully we help them grow a bit, move on and grow a bit more," said Jones.
Favourites?
Jones said he feels incomplete without cheese, and he eats it every day.
"I am not very loyal. I love mountain and alpine cheeses, but I am very flighty," said Jones. "At the moment, locally, a little dairy called Ancient Heritage Dairy has a cheese they call Hannah that is an exciting little cheese."
It is a cow/sheep blend, about nine months old and very delicious. It has a lot of acidity, it is tangy with some crystals, said Jones.
He offers classes all over the West Coast and is interested in exploring the idea of taking people to Europe to discover cheese.
At the Cheese Bar, the wandering gastronome can expect to create the experience they want.
"You can buy what you want and go sit in a park and eat it, or savour a selected cheese board," said Jones. "We want to offer people the option to get 20 bucks of cheese without having to think about it or be intimidated."
He said he doesn't want the Cheese Bar to be completely about cheese. He offers tantalizing salads too, as well as other healthy options, so that people can live a long time and come back and try more cheese.
Check out the Cheese Bar online for their menus and exciting products.