Visit California - road trips & scenic drives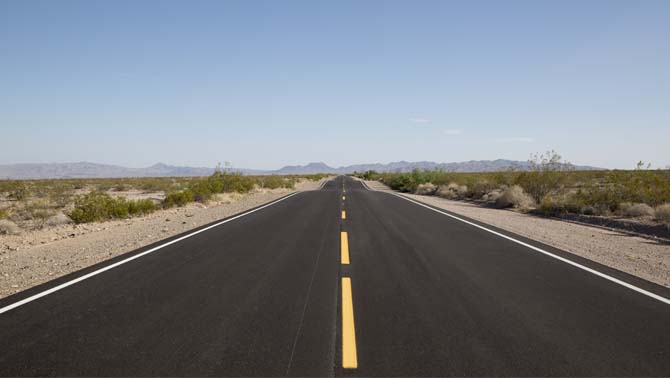 From Northern California's pristine natural landscapes to sunshine soaked beaches in the south, California's open roads are calling. Dozens of off-the-beaten path destinations and classic scenic stretches beckon road trippers looking to take in the breathtaking beauty of the Golden State. Pack up your bags and choose your route!
Dramatic North Coast
California's northernmost region is an untamed landscape looming over the rugged coastline, tucking back into redwood groves. Do your best to keep your eyes on the road—the natural beauty here is truly remarkable.
Explore Inspiration Highway
Mendocino County's 92-mile "Inspiration Highway," two hours north of San Francisco, skirts nine parks, six American Viticulture Areas (AVAs) and thousands of acres of classic California outback. It's a road trip that calls for hiking boots, corkscrews, bikes and kayaks. Carpoolers can uncork in Hopland, home to the region's finest winetasting, pass through pagodas in the spiritual City of 10,000 Buddhas, take an adventurous trek through Montgomery Woods Natural Reserve, and dress down for a day soak at Orr Hot Springs Resort. Continuing north, visitors can stop for a guided tour of the county's newest national historic landmark – Seabiscuit's Stud Barn at Ridgewood Ranch, and can end the afternoon with a visit to the Skunk Train, offering a variety of excursions into 1,000-year-old redwood groves.
Serene High Sierra
Home to three national parks, untouched landscapes, and pristine mountain air, road trips through the High Sierra will rejuvenate you. Dip your toes into fresh lakes and waterways, take in the views high atop peaks and valleys, or get lost in dense forests and vast deserts.
Ebbetts Pass National Scenic Byway
Jutting up from the heart of the Sierra Nevada with Lake Tahoe and Yosemite National Park as its neighbors, the Ebbetts Pass Scenic Byway is a 61-mile stretch of Highways 4 and 89, in between the towns of Arnold in Calaveras County and Markleeville in Alpine County. One of only seven nationally-designated byways in California, here you'll experience glacially carved valleys, ancient volcanic peaks, deep river canyons, hot mineral pools, and some of the most dramatic and breathtaking views of the Sierra Nevada mountain range.
High Deserts and Mountain Valleys in Mono County
Highway 395, which runs through the Eastern Sierra Nevada, boasts deserts, valleys, lakes and streams, and charming roadside towns like Bodie State Historic Park, one of the West's most iconic ghost towns. Americana looms large along this state-designated scenic byway. A lifestyle immune to the hustle and bustle of modern-day excursions still thrives in destinations like Walker, June Lake and Lee Vining. It's a path that ties together the Wild West, Ansel Adams and a bit of adrenaline. The route leads travelers to the dramatic east entrance of Yosemite National Park, Mammoth Lakes and the mysteriously beautiful Mono Lake. For those with extra time and a bit of wanderlust, it's the highway's offshoots of Highway 120 and the June Lake Loop (Highway 158) that lead to some of the area's most stunning backdrops.
Majestic Mountain Loop
The Majestic Mountain Loop, or MML, takes travelers along a 400-mile journey through Sequoia, Kings Canyon, and Yosemite National Parks. Although it's touted as "three parks in three days," visitors will want to stay longer. In Sequoia National Park, top sights include Moro Rock, Giant Forest Museum, Tunnel Log, and General Sherman Tree. In Kings Canyon, visit General Grant Tree, Boyden Cavern, Roaring River falls, Zumwalt Meadow, and Road's End. Wawona Pioneer Village, Glacier Point, Tunnel View, and Yosemite Valley (home to El Capitan, Half Dome, and Yosemite Falls) are worthy points of interest in Yosemite National Park. Three iconic hotel options offer comfort and shelter to rest up for a new day of adventures: Wuksachi Lodge in Sequoia, John Muir Lodge in Kings Canyon, and Tenaya Lodge at Yosemite.
Central Valley
California's Central Valley offers visitors a chance to discover the birthplace of the "Bakersfield Sound" country music genre, an abundance of family-owned farms, wine trails, and endless outdoor adventure.
Fresno County's Fragrant Blooms
Feast your eyes on the bold pink and white blossoms, golden poppies, and vibrant orchards as you drive through Fresno County's Blossom Trail. To enjoy blossom season, plan to visit February through mid-March. In the summer months, fruit stands offer sweet treats straight from the orchards—a perfect supplement for the road. Simonian Farms is a popular starting point, where visitors can see and experience the end product of these beautiful orchards.
Gold Country to Wine Country
Stretching from farmlands in the foothills to the urban landscape of San Francisco, Northern California explorations include wine country, bountiful orchards, and the Garlic Capital of the World.
Sonoma Valley's Wine Country Escape
Sonoma Valley, the 17-mile region within Sonoma County, offers a variety of scenic mini road trips for viewing Wine Country. Drive up Highway 12 beginning in the Sonoma Plaza through Glen Ellen into Kenwood, passing gorgeous vineyards. Proceed to Adobe Canyon Road and stop at Chateau St. Jean Winery or Landmark Vineyards for a tasting of Sonoma Valley wines. On the return, cruise along Glen Ellen's Arnold Drive, a sycamore tree-lined road with beautiful fall foliage and Sonoma Valley Regional Park at its border. End your tour through the Valley at Jack London State Historic Park encompassing pristine wilderness, ancient redwoods, oaks, an heirloom orchard and breathtaking views.
Sacramento's Delta River Route
The Sacramento River Delta region, California's first agriculture area, offers romantic winding sloughs, historic bridges and ferries, only minutes from Sacramento. A drive along Highway 160 leads travelers along the river, past quaint historic towns and hundred-year-old pear orchards. Pick fresh fruits and vegetables at local farms and learn about the Chinese immigrants who settled here in the 1800s. Plan a visit during the Courtland Pear Fair in July or the Wine and Produce Passport Weekend in August.
San Francisco's 49 Mile Scenic Drive
The 49 Mile Scenic Drive is an excellent introduction to San Francisco's charms. Marked by blue-white-and-orange seagull signs, the half-day drive through the city's most accessible scenic and historic points circuits Civic Center, Japantown, Union Square, Chinatown, North Beach and Telegraph Hill. It skirts Fisherman's Wharf and winds past the Marina and the Palace of Fine Arts. The route passes the southern approach of the Golden Gate Bridge, winds through the Presidio, and doubles back through Golden Gate Park. After vaulting Twin Peaks it dips down to Mission Dolores and back to the bay front for a drive by the San Francisco-Oakland Bay Bridge, Ferry Building, financial district and Yerba Buena Gardens.
Highway 152: Gateway to California's Coastline
Fertile farmlands, redwood forests, and the Garlic Capital of the World—it's all here along Highway 152. Pick up 152 from Highway 1 in Watsonville, between Santa Cruz and Monterey, and head east. You'll pass through fields of lettuce and strawberries before you start climbing into the Santa Cruz Mountains. Along the way, pass Mount Madonna Park, great for hiking and camping, Gilroy Gardens Family Theme Park, and an abundance of wineries. Stop in historic Gilroy for lunch and take a shopping break at Gilroy Premium Outlets.
Ojai's Winding Valley
Just 65 miles north of Los Angeles lies Route 33, an off-the-beaten path route winding through the Central Coast's mountainside. Begin in the seaside town of Ventura at the junction of Highway 1 and Highway 101. Weave into the pink Topatopa Mountains toward Ojai, a charming town tucked away in a picturesque valley surrounded by rolling hills, aromatic citrus orchards, and winding country roads. Sip award-winning wines, peruse quaint boutiques, and stop by Boccali's for their famous Strawberry Shortcake before continuing up the highway toward Los Padres National Forest.
Paso's Perfect Scenic Drive
Paso Robles' picturesque roads wind through expansive vineyards and rolling hills. The eastside of Paso Robles Wine Country is a must, interspersed with meandering roads branching off of Highway 46 East. Union Road is particularly beautiful, taking visitors on a scenic journey past several wineries on its way into the heart of Paso Robles. In the west, the popular Vineyard Drive – leading to more than a dozen wineries – offers glimpses of open fields through the branches of majestic oak trees, tempting visitors to pull over and take in the view. Located just a short drive from the Pacific and the famous Hearst Castle, Paso is a popular destination for road trippers to overnight. The drive along Highway 46 West showcases the Central Coast's vast countryside and the iconic Highway 1 will delight visitors with breathtaking views of the sea.
Highway 154: Santa Barbara to Los Olivos
Also known as the Chumash Highway, California's State Route 154 is a scenic back road drive from Santa Barbara to Los Olivos. As it twists and turns through the mountains, Highway 154 alternates between lovely views of Cachuma Lake and panoramas of the valley below. One of its most breathtaking sections is the Cold Spring Arch Bridge, one of the tallest in California and a fascinating work of engineering. Additionally, Highway 154 gives you access to some interesting side trips, including the Chumash Painted Cave, Cold Spring Tavern and the Cachuma Lake recreation area.
Classic California 1
California Central Coast's Highway 1 provides a perfect backdrop for family road trips, outdoor enthusiasts and wine lovers. From Ventura to Santa Barbara, up through San Luis Obispo, Big Sur, and the Monterey region, you'll find waterfront activities, seaside villages, artisanal wineries, and breathtaking views of the California coast. An outdoor recreation road trip could include: spotting sea otters and condors at Big Sur; swimming, surfing and kayaking at Pismo Beach; whale watching and horseback riding in Santa Barbara; and sports fishing and cave exploring on the Channel Islands off Ventura and Santa Barbara. Whether beachside camping or frequenting luxury resorts, this is a vacation the entire family can enjoy.
CA Highway 1 Discovery Route
While traveling along the CA Highway 1 Discovery Route, families can discover the 10 diverse artisan towns and seaside villages starting just south of Big Sur, from Ragged Point & San Simeon, Cambria, Cayucos, and Los Osos/Baywood Park, to Avila Beach & Valley, Edna Valley, Arroyo Grande Valley, Oceano and Nipomo just south of San Luis Obispo. This is where rolling hills meet the sparkling ocean, vineyards unfold and visitors are invited to stop along the rugged coastline at one of these celebrated Central California wine regions. Located halfway between Los Angeles and San Francisco, between the Santa Lucia Mountains and the coast, the land exhibits a distinct set of growing conditions that bind the regions together.
Monterey County's Old Stage Road
Follow the legendary stagecoach driver Charley Parkhurst's trail along the winding country back roads of Old Stage Road. From the junction of San Juan Grade Road and Crazy Horse Canyon Road in northern Monterey County, head down to where the settlement of Natividad once thrived. Drive by the site of California's first college, El Colegio de San Jose, established in 1842. Continue to Los Coches Adobe in Soledad, where weary travelers once stopped for a meal and rest. Further south, Lowes Station was the last stop before the ascent up the Jolon Grade. Continue south from Jolon towards Lake San Antonio and end at Pleito, now known as Monterey County's underwater ghost town. Brochures and directions are available at the California Welcome Center Salinas.
Southern California's Surprising Sights
Careen down back road canyons, visit the famous sites where Hollywood classics were filmed, discover old mining towns, and get a glimpse of Mexico high atop a peak. There are many unexpected adventures to be had in Southern California.
WeHo's Stretch of Route 66
One of the most iconic highways in the world, Route 66 has been referenced in countless television shows, movies, radio hits and books. The highway, an important relic in American history, is a cult favorite with thousands of tourists making the drive from the Midwestern United States to the sun-kissed beaches of Santa Monica each year. But before it hits the glimmering sands of the West Coast, Route 66 rolls through West Hollywood and brings travelers across the stomping grounds of Hollywood's forgotten past. From movie studios where Marilyn Monroe filmed her classic "Some Like It Hot" to hotspots like Formosa Café and Dan Tana's that hosted the likes of Elvis Presley and Frank Sinatra, TV and film history come alive in WeHo's two mile stretch of Route 66, a short two miles not soon to be forgotten!
Old West Charms and World-Class Views on Highway 79
Tucked away in the mountains of San Diego, Highway 79's pristine pastoral valley is well worth a road trip. Begin your journey in Santa Ysabel to visit the famous Dudley's Bakery, serving 43 types of treats since 1963. Stop into Santa Ysabel Art Gallery to see works from "San Diego's Gaudi," James Hubbell. Don't miss the Hubbell House and Studio to view his eight fantastical structures. The charming Mission Santa Ysabel, founded in 1818 by Spanish friars, is open to the public daily.
Cross Highway 78 to reach Julian, a delightful mountain town founded during the gold rush boom of 1869. Cruise down Main Street to view charming Victorian and Old West architecture, and sample mouth-watering apple pies and cider from local orchards (the town's claims to fame). Take a break from the road on a guided walking tour of Eagle and High Peak Gold Mines, or kick back at Menghini Winery, located three miles north of Julian in the foothills of Volcan Mountain. End at Cuyamaca Rancho State Park's 110-mile oasis. Pristine pools and fresh waterfalls are a welcome treat along the Green Valley Campground, situated by the Sweetwater River. On a clear day, the park's highest viewpoint, Cuyamaca Peak (6,512 feet), offers views of Mexico, neighboring mountain ranges and the Anza-Borrego Desert.
Explore Conejo Valley on a Canyon Cruise
Agoura Hills' Kanan Road offers a back road adventure fit for both adventure seekers and wine aficionados looking for an escape on the open road. Try your luck fishing at Troutdale, a 40-year-old attraction perfect for novice fisherman with its two stocked ponds. Explore the expansive Tuscan villa, take in the breathtaking canyon views, and sample award-winning wine at Malibu Rocky Oaks Estate Vineyards. Sample "Nouveau Barbecue" at the Calimigos Ranch Malibu Café—a signature dishes created generations ago. Visit the enchanting oak woodlands of the Peter Strauss Ranch, inhabited for thousands of years by the Chumash people. Travel back to the Wild West or hike the surrounding Santa Monica Mountain trails at the Paramount Ranch. End the road trip and unwind with a sip at Cornell Winery or dinner at the pioneer-style Old Place.
With winding roads, hidden valleys and miles of freeway, the possibilities for adventure are endless across the Golden State. For more details on planning the perfect road trip visithttp://www.visitcalifornia.com/road-trips"> www.visitcalifornia.com/road-trips.