Top ten glamping opportunities in Western Canada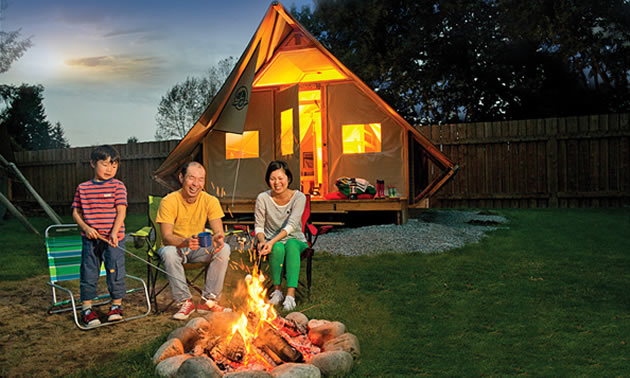 So what's all the excitement about glamping? As you probably know, glamping is a mashup of the words glamorous and camping. In other words, it's for those who want a "soft" adventure experience—a.k.a. a comfortable bed and a solid roof over their heads; an escape from the dust, mud and black flies of regular camping and at the same time beckoning to the call of the wild.
In fact, I believe this concept was invented to appeal to people like my wife, who believes staying high in the Canadian Rockies is akin to booking a room on the fifth floor of the Chateau Lake Louise.
While most of our readers take their accommodation with them in the form of tow-behind trailer, a camper, a Class B van conversion or a luxury Class A motorhome, a glamping trip is a great way to introduce people to the softer side of the great outdoors. As you can see from this list, the ideal glamping destination is often in the mind and heart of the beholder —with rates ranging from $20 to over $1000 a night—there is a glamping experience for every budget and taste.
Based on numerous media reviews and suggestions we at RV West have put together what we are calling the 2016 Top 10 Glamping Destinations. We realize this list is a bit subjective. However, we welcome your suggestions for your favourite glamping destinations.
1. Banff National Park—Two Jacks Lakeside Campground
Your destination is a 'cross between an A-frame cabin and a prospector tent'. These rustic but comfortable units can accommodate up to 6 people and come equipped with almost everything you need to enjoy a 'glamping' experience—including electricity, heat and bunk beds. This is rumoured to be the best campground in the park for stunning views of the majestic mountain ranges and it is only 15 minutes from the hustle and bustle of downtown Banff and close to camera-friendly Lake Minnewanka. This rustic campground is tucked away on the magical shores of Two Jack Lake. The ten oTENTiks (the National Parks name for glamping facilities) is located in the north section of the campground, amongst a cathedral of Douglas fir, white spruce and pine trees. ($120 per night)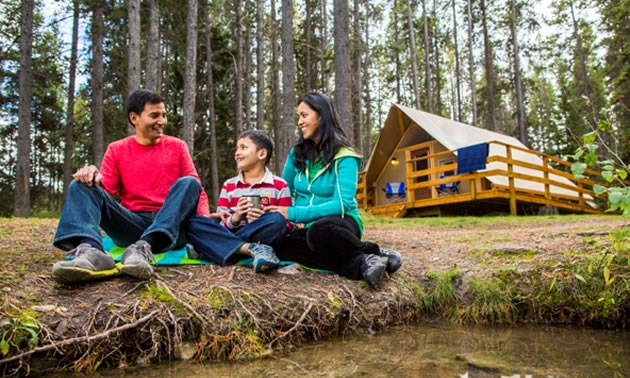 2. Clayoquot Sound, BC: Clayoquot Wilderness Resort, BC
This may seem like an odd fit in the glamping category but this resort has to be the ultimate in glamping—near the top on a lot of bucket lists of glamping destinations. The motto for Clayoquot Wilderness Resort really sums it up: Remote. Refined. Remarkable. In fact, the staff at Canadian Living recommended this site after one of their team members visited a couple of years ago and fell in love. "The high engagement activities match the accommodations," said the team member. Guests can go on a "Wild Side" interpretive trail with a First Nations guide, kayak on a rushing river, take a gentle canoe or kayak excursion through tranquil coves and inlets, learn how to ride a horse, learn the shooting skills of an archer or go in search of black bears (with an expert guide, of course). This is the ultimate in high-end, rustic-luxury resorts. It is definitely pricey but spectacular too. (starting at $4750 for 3-night, minimum stay)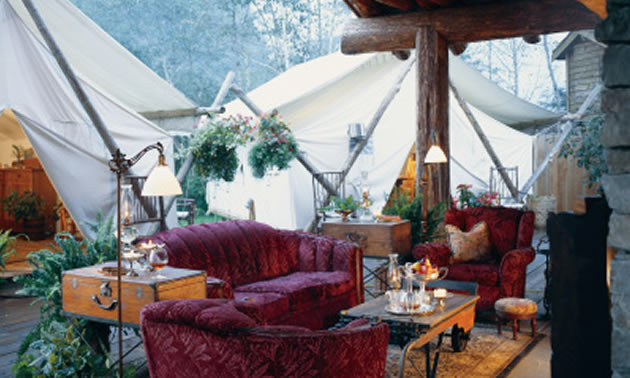 3. Jasper, Alberta:
Cottage tents at Jasper National Park—the world's largest dark-sky preserve—come equipped with beds, seating, electric lights and baseboard heaters, a camp stove, cooking gear and dishes, and that all-important coffee percolator. Sleeps up to four adults and two kids (in a bunk bed!). ($70 a night)
4. Waterton, Alberta:
Point your vehicle in the direction of Crandell Campground in Blakiston Valley for tepee camping, modern-style. These upscale tepees have a synthetic turf floor and are equipped with sleeping mats for comfort. Make sure you reserve in advance and remember: BYOG (bring your own gear). ($55 a night)
5. Christopher Lake, Saskatchewan - Flora Bora Yurts
The year-round yurt lodgings at Flora Bora, less than a two-hour drive from Saskatoon, are nestled in 30 acres of forest, close to the beaches at Emma and Christopher Lake, and just a short drive to Prince Albert National Park. Each yurt is equipped with a bathroom, kitchenette and a private deck. Nature trails are within easy walking distance. ($196 per night)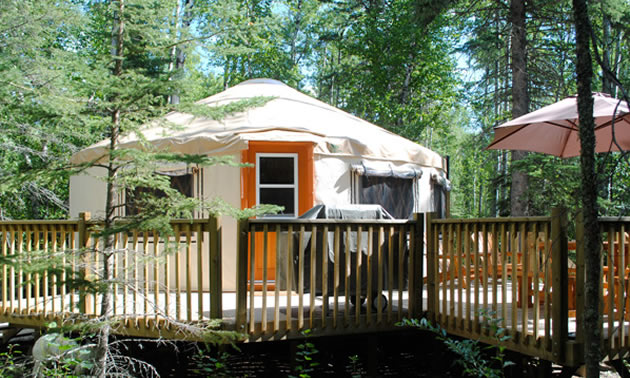 6. Riding Mountain, Manitoba:
Yurt can't go wrong here either. Some visitors dream of visiting Grey Owl's cabin, while others may aspire to a night at the popular park's only yurt in the Wasagaming Campground. Remember there is only one yurt so book it early ($56 a night)]
7. Fort Langley, BC: Fort Langley National Historic Site
oTENTik, exclusive to Parks Canada, is a cross between an A-frame cabin and a prospector tent mounted on a raised wooden floor. This water resistant accommodation is built to withstand diverse weather conditions and no set-up is required by campers. Each of the five units inside Fort Langley's historic walls represents the heritage of Fort Langley's diverse workers ($120 a night)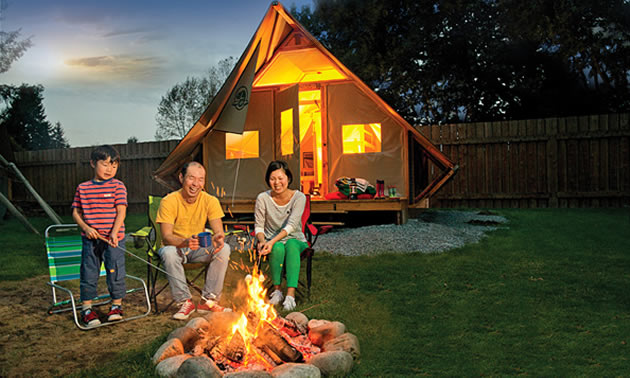 8. Elk Island, Alberta:
Live the life of a Plains Cree (pretend at least) in a teepee in the Sandy Beach Campground, less than an hour from Edmonton. Discover bison, moose, deer and elk (or not) before heading back to your campsite for a cozy bonfire. Catch a restful night's sleep in a teepee perched atop a wooden platform with up to five of your closest family members or best friends. ($55 a night)
9. Wardner, British Columbia:
Outa-the-Woods is in a private location in the East Kootenays of British Columbia. Perched on a large platform 5 meters (15 feet) high and built on 7 trees, "Outa-the-Woods" is a totally unique eco-friendly vacation retreat. Relax on the deck overlooking ponds and forest. Enjoy a spectacular Rocky Mountain view and watch the wildlife from the deck. This treehouse is built entirely out of the woods with carefully selected, curved, twisted and burled wood. It features many carvings, 2 handmade spiral staircases, and rustic furniture. "Outa-the-Woods" has a comfortable and relaxing atmosphere in a peaceful natural setting. Experience the magic of living in the trees. Outa-the-woods is a secluded, romantic getaway, ideally suited for couples. ($200 a night)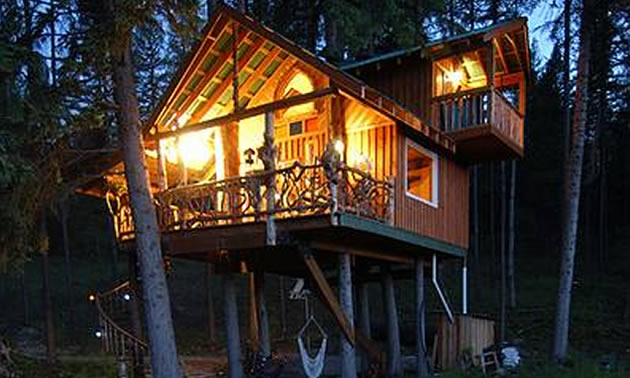 10. Rocky Mountain House National Historic Site, Alberta:
Book a teepee stay and learn about the fur trade at this park between Calgary and Edmonton on the north banks of the Saskatchewan River. Walk in the footstep of Canada's great explorer and mapmaker, David Thompson and his wife Charlotte. (approx. $20 a night)
Whether you book a teepee or luxury walled tent, glamping is sure to be an experience you and your family won't forget. Tell us about your glamping experiences. Is glamping a good segue into RV ownership? Note: prices mentioned are subject to change and you are urged to reserve well in advance.