The majority of Florida's campgrounds and RV parks are open for business
by Jeff Crider —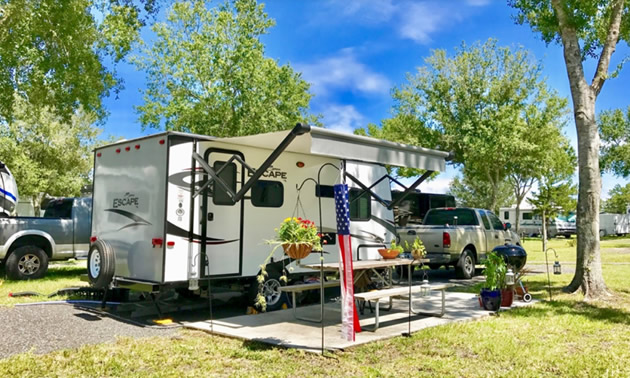 The vast majority of Florida's RV parks and campgrounds, with the exception of some on the Northeast and Central Atlantic Coast, are currently open and operating as normal, according to the Florida Association of RV Parks and Campgrounds.
"It appears as though Florida got very lucky this time," said Bobby Cornwell, president and CEO of the Florida Association of RV Parks & Campgrounds, which hosts www.campflorida.com, the statewide travel planning website. "Our prayers and thoughts go out to all the families in the Bahamas who suffered the worst of this storm. Our hope is that Dorian continues to head Northeast out into the Atlantic and away from all of the Eastern Coastal States."
Cornwell cautioned that there is still the possibility of some strong winds and coastal and river flooding in NE Florida, but all weather reports indicate that the worse for Florida is over as Dorian continues to move northeast and away from the Florida coast.
The state of Florida issued evacuation orders for low-lying and flood prone areas in many counties along the Atlantic Coast, however most have been lifted, except for the following: Brevard, Clay, Duval, Flagler, Nassau, Putnam, St. Johns County, Volusia.
In total, Cornwell estimates that approximately 35 to 45 parks were temporarily affected by the evacuation orders, but these RV parks are expected to reopen as soon as all orders are lifted – hopefully by Thursday, September 5. Cornwell advises campers to check with park operators first (at least those on the East Coast) to make sure all evacuation orders are lifted and the RV park or campground is prepared to reopen. For evacuation and emergency updates, please visit: https://www.floridadisaster.org/evacuation-orders/.
Fortunately, with over 600 RV parks in the state, the vast majority have been unaffected by Dorian, including the RV parks and ampgrounds located in South Florida and in the Keys. "Florida is definitely open for business," Cornwell said.
For a list of campgrounds and RV parks in Florida, please visit www.campflorida.com. For more information on RV park availability and updates on the Florida's outdoor hospitality industry, please contact the Florida ARVC office at 850-562-7151, or visit www.facebook.com/CampFlorida.