Take a trip into the past with historic Airstreams, Boles Aero and other retro-style travel trailers
by Jeff Crider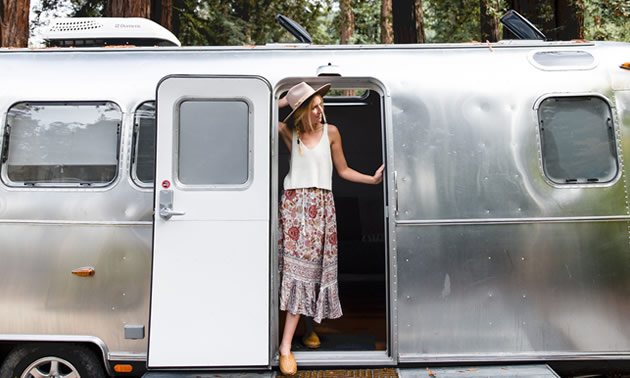 AUBURN, California, May 2019 — Campgrounds offer unique settings for us to experience unrivaled quality time with family and friends.
But a handful of California campgrounds also provide their guests with opportunities to take a trip into America's past with iconic Airstream, Boles Aero, Spartan, Superior as well as modern retro-style travel trailer rentals.
"We're seeing more and more campgrounds offering iconic travel trailers as rental units for people who want to enjoy a retro-style vacation," said Debbie Sipe, executive director and CEO of the California Association of RV Parks and Campgrounds, which hosts Camp-California.com, the travel planning website.
Many of these historic travel trailers are equipped with modern amenities, such as flat screen TVs, microwave ovens, mini refrigerators and coffee makers.
"People love to experience what it was like to camp in the 1940s and 50s, but they also don't want to give up our modern creature comforts," Sipe said.
Here's a sampling of campgrounds across California that offer "retro-style" camping rentals:
AutoCamp Russian River in Guerneville: This campground features iconic Airstream travel trailers rentals, which feature queen-size beds with plush linens, a modern sofa that converts into a full-size bed, a flatscreen TV with built in audio sound system with MP3 input, a kitchen with a microwave and basic cooking utensils, wine glasses and silverware and a bathroom with a walk in shower and custom vanity sink. The Russian River is across the street from the campground, which is also walking distance from downtown Guerneville.
Flying Flags RV Resort & Campground in Buellton: This resort's rental accommodations include nine shiny Airstream trailers and "Canned Hams" dating from the 1940s to the 1970s. Each vintage RV has fully restored interiors and shaded outdoor seating areas with high end barbecues, sinks and granite countertops.
Hope Valley Resort & Campground in Hope Valley: This 7,000-foot elevation campground is located in the Sierra Nevada near the banks of the West Fork of the Carson River. The campground includes drive-in and walk-in campsites as well as a classic 1947 Spartan trailer rental. The campground is a sister property of Sorensen's Resort, just over a mile away, which offers luxurious cabin rentals with fireplaces as well as a gourmet cafe. Visit Hope Valley Resort and Sorenson's Resort.
Inn Town Campground in Nevada City: In addition to providing RV and tent sites, this campground has a red and white 2018 Riverside Retro travel trailer, which looks like a vintage trailer. The rental includes a queen-size bed and two twin beds, a bathroom and shower and a kitchenette with a microwave oven, a two-burner stovetop, a coffee maker and a small refrigerator.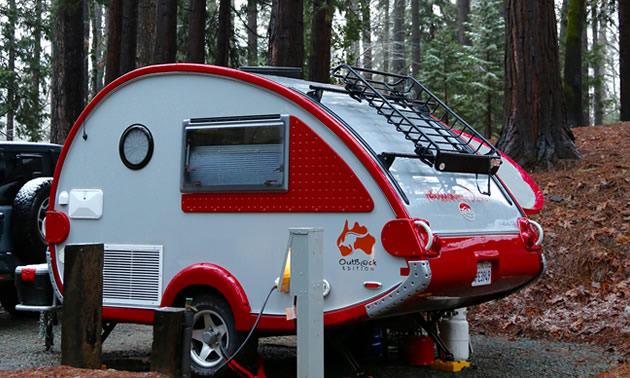 Santa Cruz / Monterey Bay KOA in Watsonville: This campground complements its RV and tent sites with Airstream trailer rentals that sleep up to 4 people. The Airstreams include partial kitchens with a sink, a microwave oven, a cooktop, a toaster and cooking and eating utensils as well as a Keurig coffee maker. The units also have a patio with outdoor furniture, a fire ring and a gas grill.
Shadow Hills RV Resort in Indio: This campground complements its RV and tent sites with three vintage travel trailer rentals, including a 1948 Curtis Wright, a 1948 Westwood and a 1954 Boles Aero trailer. The campground is also fixing up two additional vintage RVs, which it hopes to have ready for rental use soon.
Yosemite Pines RV Resort and Family Camping in Groveland: This campground complements its RV and tent sites with a wide selection of vintage travel trailers that have been restored to look like new, including Airstream, Boles Aero and Silver Avion travel trailers. The campground also rents out new Retro brand Silver Beach and White Water travel trailers, which are manufactured to look like vintage trailers. The rental units typically come with refrigerators, microwave ovens, coffee pots and fresh linens.
All seven campgrounds are affiliated with the California Association of RV Parks and Campgrounds, the Auburn-based trade association representing California's campground industry. In addition to hosting a travel planning website at Camp-California.com, the association publishes a free award-winning camping guide, Camp-California! The Camper's Guide to California and Nevada, which can be ordered through Camp-California.com. A digital version of the guide is also available on the website.